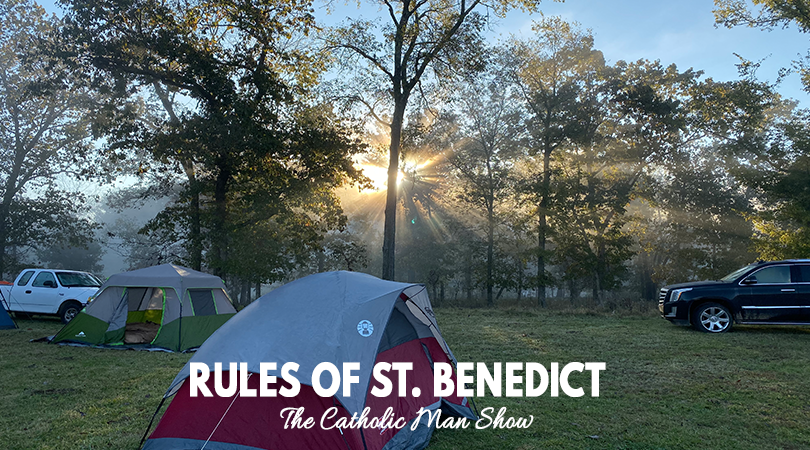 Live from The Catholic Man Show Campout at Clear Creek Abbey
Here's more information about Clear Creek Abbey.
We are looking for a few men who are taking their faith seriously.
Join us on Patreon: Extra content, great thank you gifts, exclusive access to Adam and David, private FB page, and much more.
About our drink:
Powerfully peaty and immensely satisfying, Ardbeg's Corryvreckan is what happens when the distillery of Islay's Kildalton Coast aims to make a whisky with a particularly medicinal style than its usual expressions. Aptly named after a nearby whirlpool, Corryvreckan is an intense dram that we simply love.
About our gear:
Rain Fly -Here's a good video on some tips on rain fly's: YouTube
"If you go camping and you don't have a rain fly, you are a fool." -David Niles
About our topic: 
The 
Rule of St Benedict
 by Benedict of Nursia (fl. 6th century) is a book of precepts written for monks living in 
community
 under the authority of an 
abbot
. Since about the 7th century it has been adopted with equal success by communities of women. During the 1500 years of its existence, it has become the leading guide in Western Christianity for monastic living in community, both in Catholicism and (since the time of the Reformation) in the Anglican and Protestant traditions.
Read more here
Drinking: Ardbeg Corryvrecken
Gear: Rain Fly
Discussing the rules of St. Benedict
If this is your first time listening to The Catholic Man Show, we do 3 things almost every episode:
TIME CODES:
1.) Open, review, and enjoy a man beverage – Minutes 1-12.
2.) Highlight a man gear – Minutes 12-24.
3.) Have a manly conversation – Minutes 24-48.
If you haven't listened to The Catholic Man Show before, check out our previous episodes here.
Want to help The Catholic Man Show?
By giving us a rating on iTunes, it helps others find the show.
Want to say up with The Catholic Man Show? Sign up for our mailing list: Click Here
Looking for a prayer to pray with your wife? Check this blog out.
Are you getting our emails? Sign up for our (almost) monthly newsletter where we give you all bacon content – never spam.