Word on Fire – Episode 131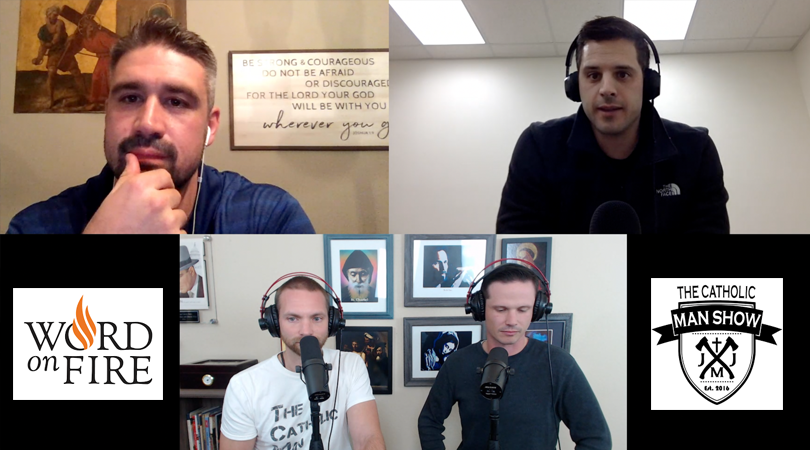 Jared Zimmerer and Matt Nelson from The Word on Fire Institute
How does joy play into the role of evangelization? Has the "New Evangelization" been successful?
THE WORD ON FIRE INSTITUTE WILL HELP TRANSFORM THE EVANGELICAL ATMOSPHERE BY:
Training and forming leaders to effectively engage those on the existential peripheries.
Inculcating these leaders in Bishop Barron's style and method of evangelizing the "nones."
Managing and guiding these leaders in their missionary movement efforts.
If this is your first time listening to The Catholic Man Show, we do 3 things every episode:
1.) Open, review, and enjoy a man beverage – Minutes 1-12.
2.) Highlight a man gear – Minutes 12-24.
3.) Have a manly conversation – Minutes 24-48.
MAN DRINK: Founders Mosaic IPA
MAN GEAR: Bug-A-Salt
MAN TOPIC: Evangelization 
Did you miss our episode with Brett McKay from The Art of Manliness?
If you haven't listened to The Catholic Man Show before, check out our previous episodes here.
Want to help The Catholic Man Show?
Want to help get the word out? Please rate The Catholic Man Show on iTunes.
Want discounts to Catholic companies?
Hats, rosaries, candles, cigars, beef jerky, and Catholic Comic book. Great gifts for all Catholic families. Check it out here
---
Are you a man who cares about our culture and wants to grow in virtue? Click here