2019 Catholic Man Show Gift Ideas
Our best friend, Juan Posada, is the man when it comes to gift-giving. He is incredibly thoughtful and intentional when purchasing gifts. Unfortunately, gift-giving isn't my love language and it can be difficult to even begin buying gifts. We are seeing our immediate and extended family continue to grow (praise God!) and so we compiled a few gift ideas for the whole family in hopes of taking some pressure off.
Catholic Gifts
Sometimes it's good to get Catholic gifts for family members, other times it comes off as pushy and over-the-top so use prudence when thinking about purchasing these gifts.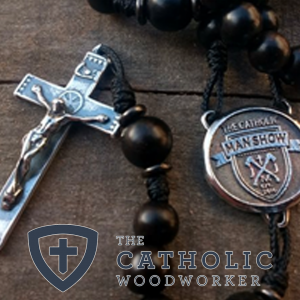 This custom rosary has been carefully crafted using only the finest materials available sourced from the U.S.A., Italy, and the Philippines. The centerpiece has our logo on one side and a one-of-a-kind St. Michael the Archangel on the other. The Centerpiece is not from your grandma's rosary. Using cutting edge 3D jewelry design software, this centerpiece produces detail you've never seen before. When you look closely at the medal you can see the wavy hair, the scales of the serpent, the cross on St. Michael's shield. These details would not be possible any other way. Once rendered, the design is printed using high-quality resin. The hardened resin is then buried in sand to make a one-time mold. Once the sand hardens, molten silver is poured in, burning out the resin, and leaving a rough medal ready for polishing. Then an aging material is applied and the final polish is complete. This is a rosary that could be passed down from generation to generation. While you are looking at them, check out The Catholic Woodworker's home altars sets as well! BONUS: Use "TCMS10" for 10% off any purchase.
Sock Religious is a Mom and Pop online store. Scott and Elisabeth launched their business at NCYC 2017 and aren't looking back.
Sock Religious aims to bring the faith to the workplace and to spice up your Sunday best.
Socks featuring St. Joseph, St. John Paul II, St. Therese of Lisieux, St. Teresa of Calcutta, St. Michael the Archangel, Pope Francis, Our Lady of Guadalupe, St. Nicholas, and even rosary socks, there's a pair of socks for you or your kids.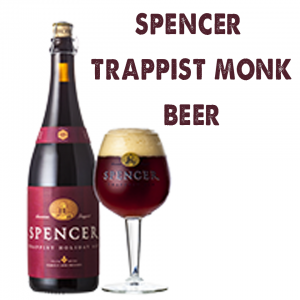 Why not help support monks AND give your loved one delicious beer?!
Their brewery project is one of necessity. For over 60 years, the monks have cooked and packed jams and jellies at their monastery under the Trappist Preserves label. This business has allowed them to support ourselves, while providing wholesome monastic work and charitable assistance to the poorer communities and persons in need. However, when they started looking to the future, as their community grew and aged, they saw their need for an additional enterprise that supports their community and charities in the years to come.
Observing Trappist tradition, they have named the brewery, and the beer, Spencer after their beloved town of Spencer, MA.
One of our favorites is their quadruple ale – you can't miss with this gift!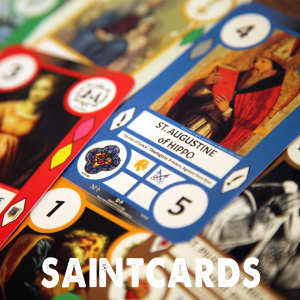 SaintCards is a tremendous gift to Catholic Families everywhere.
It can be tough to raise our children in the faith, and even harder if it always feels like work.  This game makes learning about the saints and our faith fun.
My 5-year-old wants to play it ALL THE TIME.
He loves the bright colored treasures, and all the cool symbols.  He had them memorized in no time!  What makes this game really special, though, is that it was thoughtfully and carefully created by an incredible family."
The cards themselves pack in a HUGE amount of info about each featured Saint, amounting to an entire biography in symbols and colors.  I love that there is so much to be learned while playing any version of the game…The possibilities are really limitless and could be adapted to be used with preschoolers all the way through adults.  It's so nice to come across a faithful, well made, flexible game. Whether you are 5 years old or 105 years old, you will learn more about the history of the Catholic faith in a fun and engaging way with Saintcards. Check out the episode we did with David Williams on the role of saints in the renewal of the Church.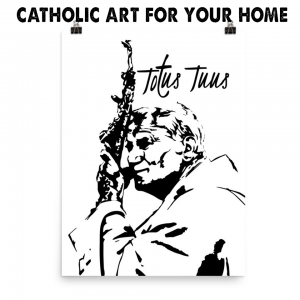 Hand-drawn image based on a famous photograph of Saint Pope John Paul II with his apostolic motto of "Totus Tuus" (meaning "totally thine").
A statement in any room. These matte, museum-quality posters are printed on durable, archival paper.
Plena Gratia Designs is a husband and wife team creating Catholic art out of Arizona. Whether you order shirts, mugs, or one-of-a-kind art, you won't be disappointed in the quality.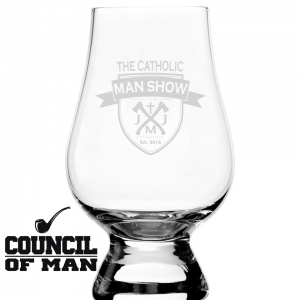 Odds are your son, boyfriend, husband, and/or nephew is striving to live a virtuous life but is in need of other Catholic men to continue pushing him to pursue the art of living the virtuous life. That is why the CoM exists. We have men from all over the world (literally!) who have joined the CoM and are in the exact same boat.
By joining the CoM, members receive a free TCMS glencairn glass, access to 3+ years of exclusive content, discounts on Catholic swag, an exclusive Facebook group with access to ask Adam and Dave any question, and more. This group is what supports The Catholic Man Show to continue growing and doing more things to reach out to other Catholic men. 100% of your support goes back into the show. Win/Win!
Gifts for Him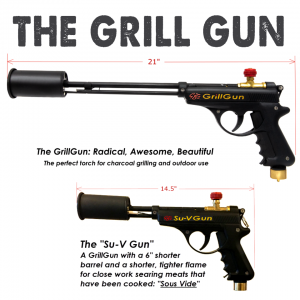 Never before has lighting your outdoor charcoal grill, chiminea, fireplace, campfire, or anything else been so much fun, so cool, and so fast.  The GrillGun lights your grill in just a couple of minutes, while being entirely portable, easy to use, with a great feel in the hand – all this while looking awesome.
You can also get the "Su-V Gun". The Su-V Gun it perfect for seriously searing meat cooked "Sous Vide", or caramelizing a whole lot of "Creme Brulee". The shorter hot flame will enable you to easily focus the flame for the perfect sear.
Not to mention, this was invented by a fellow Catholic man here in the Tulsa area! I couldn't imagine a man not enjoying this gift.
*NOTE* Orders placed won't make it by Christmas, but I'm willing to bet he will be willing to wait for it.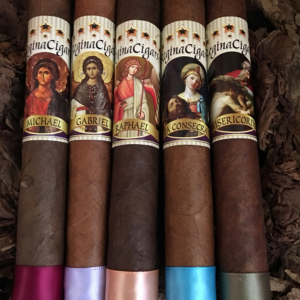 Buy cigars for your serious cigar smoker or for just a special occasion.
Regina Cigars is another win/win when buying their high quality cigars. Check out their mission below:
"Thanks for your interest in our unique line of handmade cigars. Our goal is to bring you finely crafted cigars that are lovingly hand rolled using exquisite blends from around the world. Part of our mission is also to help raise awareness and financial support for orphans in cigar producing countries. Since these countries produce our handcrafted cigars we thought it would be fitting to give back to the least fortunate in those communities. A portion of the proceeds from the sale of Regina Cigars™ will go to "Farm of the Child" which is a faith-based orphanage in Honduras. We have already been able to donate almost $11,000.00 in proceeds to help them & other faith-based initiatives. We currently support the annual financial & educational needs of 6 orphans at the mission. With your continued purchases, we hope to be able to greatly increase that amount over the coming months." BONUS: Use TCMS10 as a promo code to get 10% off purchases.

It's a classic staple, a timeless piece, and a vintage favorite. The record player is a beloved music device that is enjoyed by many. Whether you appreciate high-quality audio or you just enjoy the nostalgic feeling of using your favorite record from your vinyl collection, a vintage record player is a perfect accessory for any audiophile or music enthusiast at heart. However, there are pros and cons to keeping your old record player. Pro's generally revolve around sentimental value while cons can be the repairs, sourcing vintage parts and the inability to integrating modern technology.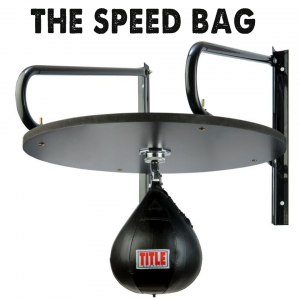 Motivating yourself to workout is a tough hill to climb. We tend to want to work out when we see it as something fun and challenging. The speed bag doesn't achieve one, singular goal. It isn't just about eye-hand coordination or speed. When it is used correctly, it can provide some beneficial edges that other pieces of equipment don't. Although a fighter can get good enough on the bag to do it with their eyes closed, it still involves having a sense of timing. The movement of a fighters hands, the sound of the bag rebounding off the platform and maintaining that successive movement all work together to help the fighter gain a sense of rhythm. As Neurologist Oliver Sacks once stated, "human affinity for rhythm is fundamental." So the speed bag, in essence, if nothing else is natural and helps create a sense of harmony in the gym. Whether you want to start going to a boxing gym or just want to tone up the arms and get a little rhythm, the speed bag is a great option.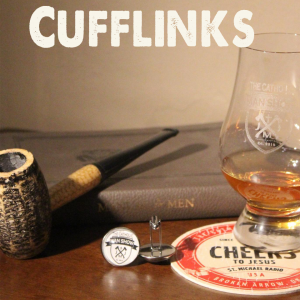 Cufflinks are tools for fastening shirt cuffs closed.
They're an alternative to the buttons that are commonly sewn onto shirt cuffs. The defining feature is that cufflinks are separate objects: sew it onto the shirt and it's a button, but if it's fully removable it's a cufflink.
Just like buttons, cufflinks come in many shapes, sizes, styles, and materials. They usually offer a little more contrast than a button, and are considered a more ornamental option, but they're not inherently more or less formal.
With Our Lady's Armory, you can combine classic and modern images of saints and other religious iconography for a unique twist on men's formalwear. Plus, you can get The Catholic Man Show matching cufflinks and tie bar if you want to max out your formal wear!
Every man needs an everyday carry pocket knife. From designs that tamed the American wilderness, landed on the moon, and defended freedom for our country, Case pocket knives have earned their place in some of our nation's defining moments. And because they're carefully crafted with the finest materials and twice tested for durability, Case knives are not only passed down for generations, but they have found their way into the hands of famous admirers and avid collectors, including some famous prize-winning bull riders, country music greats, and even former U.S. presidents.
Case pocket knives are an icon of American craftsmanship.
If you want to make it extra special, you can even personalize the pocket knife.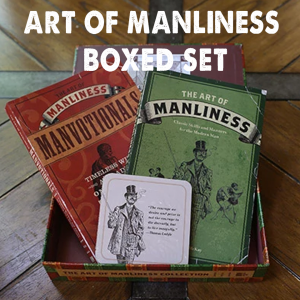 This limited-edition collection contains a wealth of information and inspiration for the modern man. Included inside are the following books:
The Art of Manliness. This book is dedicated to helping men uncover what manliness means in the 21st century, from rediscovering the outdoors to dressing with panache to becoming a good father.
The Art of Manliness: Manvotionals. This book contains the manliest wisdom of the ages — a myriad of poems, quotes, and essays designed to inspire men to live life to the fullest and realize their complete potential as men.
Together, housed in a classic cigar box, they make the perfect gift for any man (or soon-to-be man) who is conscious of leaving his mark on this world. Books are signed by Brett McKay. Bonus: This box also includes 6 drink coasters! If you missed our episode with Brett, check it out here.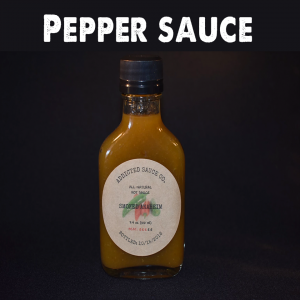 We were introduced to this company by Andrew Pudewa on our episode we did with him. Since that episode, I think our family has tried every sauce they make. My absolute favorite is their Smoke Anaheim Pepper Sauce. It's delicious on chicken, eggs, pork, on top of cream cheese, and we even used it to blend our own hot sauce.
Addicted Hot Sauce is homemade and all-natural made in small batches. Each sauce is crafted to highlight the different flavors of each chili they use. The characteristics and heat of each chili give each sauce its own unique flavor and versatility.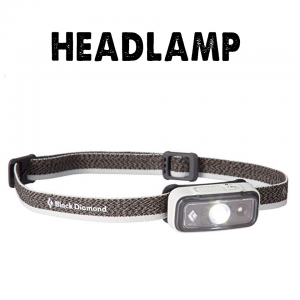 It's really nice to have a good headlamp when working on projects around the house or while trying to set up the family tent after it's dark (not recommended!) While this max output of 160 lumens won't light up the entire campsite, it's enough to cook with or illuminate your car in a dark garage. Its small size makes it a great option for minimalist backpackers or trail runners too. The buttons are easy to push, even underwater, and the red light is a nice bonus. A handy locking feature prevents the light from turning on accidentally when stashed in a backpack, and the simple but secure strap kept it solidly mounted on our heads when running. It would be nice if it was rechargeable, but the price and weight make it a useful low-cost option.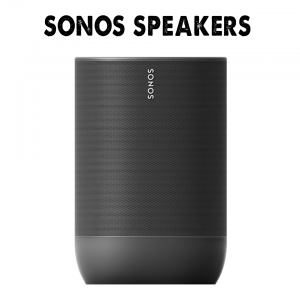 If you are a big fan of high-quality sound like I am, Sonos speakers are the way to go. The small speakers pack a big sound and you can put them anywhere in the house. If you like having house parties, these speakers are great because you can sync up the speakers to be playing the same music or set the mood of each room with different tunes. My wife enjoys listening to audiobooks and podcasts on it as well. If you are making an investment in speakers, you want to make sure they are worth it. These definitely are worth the money. Highly recommended.
Gifts for Her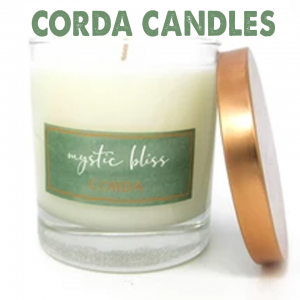 It took more than seven months and exhaustive testing to take CORDA from an idea to the launch of the first products: candles with scents inspired by saints and the faith.
Each scent combination is the fruit of love and prayer, and their inspirations come from the day to day lives and heavenly patronages of these holy men and women. Our faith gives us so many things that make concrete and visible an invisible reality, and Anna Camacho's hope is that CORDA candles do the same.
This is not just for women – we have St. Joseph's Carpenter Shop candle burning in the studio.
And in addition to being much more environmentally friendly than a soy wax candle, this 6 oz. coconut wax candles burn 20%+ longer than a bigger 8 oz. soy wax candle! You won't be disappointed.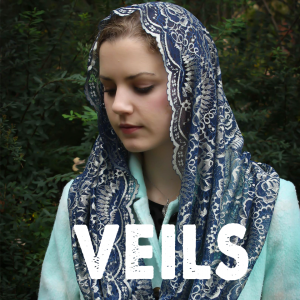 Veils are making a comeback! Trying to find a company that has high quality that won't break the bank over the internet is tough. We recommend checking out Evintage Veils. My wife has 2 and loves them both. With over 2,800 5 star reviews, Evintage Veils will not let you down.
To learn more about veils and why women veil, check out this article.
Who doesn't like delicious cookies?! Who doesn't enjoy supporting Catholics running small businesses?! This is another win/win.
Providing personalized home-made confection creations and other tasty treats for customers, Dizzy Lizzy Cupcakery will bake delicious treats your family and friends are sure to enjoy.
The picture is cookies for Fr. Stanley Rother she made.
This beautifully designed and produced planner has been compiled by Catholic Mothers for Catholic Mothers. The ideal diary to help a busy Catholic family organize their life while keeping the important things at the center and packed with ideas for passing on the faith.
The Planner contains:
2020 diary – week to a double-page spread
Inspirational quotes from Saints and scripture for each week
Reminders for important Saints' days, feasts, fasts and seasons
Sunday reading references for the whole liturgical year
Start and end dates for special prayers and novenas
Prayer section with new and classic prayers to learn and recite with all the family
Activities for all the family connected to the liturgical year
Recipes for feasts, Saints' days and special times of year,
50 extra pages of new features and prayers *new feature*
Ember days *new feature*
Marian Prayers section *new feature*
Pray through the day section *new feature*
Monthly Spiritual challenges *new feature*
New specially commissioned illustrations for feasts and seasons *new feature*
Every mom needs to take a coffee break every now and then. Get her these handmade mugs from WedigMudandMetal
Your wife not a coffee drinker? No worries. WedigMudandMetal has homemade rosary holders, bowls, and holy water fonts.
The Miraculous Medal is a vintage brass stamping hand-painted gold and silver using Vintaj patina which is permanent and durable. It is set in sterling silver plated setting. The pendant measures approximately one inch. The image of Mary is 1 centimeter.
Each piece is handmade and unique. No two are the same. Your item may have slight differences from the one pictured.