THE 3RD ANNUAL CATHOLIC MAN SHOW CAMPOUT SIGN UPS ARE NOW AVAILABLE
When: October 24th-27th, 2019
Where: Clear Creek Monastery
5804 W. Monastery Rd, Hulbert, OK 74441
Who: Any man ages 21 and older
What: Join us as we camp out at the Clear Creek Monastery! Activities include: Live recording of The Catholic Man Show, talk given by a Benedictine Monk, Mass and Liturgy of the Hours with the monks, great food, fellowship, and cheer!
Cost: $40/person OR free to Council of Man members.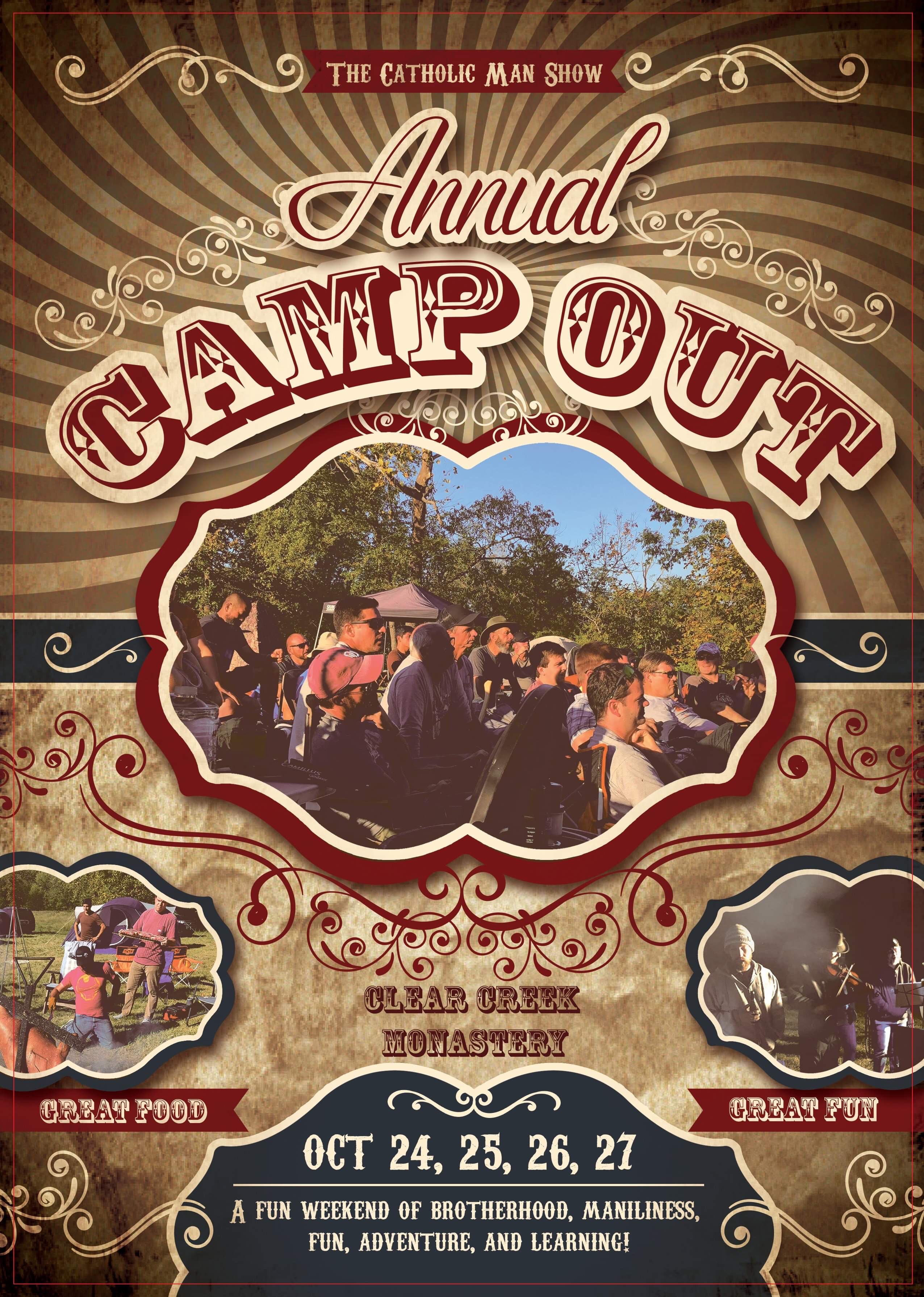 2019 are now open - hope to see you there. If you have any questions, scroll down to the bottom and send us an email. 
Sorry, you've reached the maximum registration capacity.
EVERYONE NEEDS BEAUTY AS WELL AS BREAD, PLACES TO PLAY IN AND PRAY IN, WHERE NATURE MAY HEAL AND THE LORD GIVES STRENGTH TO BODY AND SOUL
Outdoors, Brotherhood, Faith, & Cheer
October 24th-27th The Catholic Man Show will be hosting the3rd annual camping trip! We have to restrict it to 45 attendees total so sign up today! Events include: live recording of The Catholic Man Show, opportunity to pray the Liturgy of the Hours and celebrate Mass with the monks at Clear Creek Monastery, a talk given by one of the monks, and plenty of fun and cheer!
WHAT YOU NEED TO KNOW:
FOOD WILL BE PROVIDED - COOKED BY THE ONE AND ONLY JUAN POSADA. WE WILL ALSO HAVE THE OPPORTUNITY TO EAT LUNCH AND DINNER WITH THE MONKS.
SHOWERS ARE AVAILABLE. PLEASE BRING CAMPING GEAR. LIMITED CAMPING GEAR WILL BE PROVIDED ON A FIRST COME FIRST SERVE BASIS.
FISHING AND HIKING WILL BE AVAILABLE ON LOCATION.
Have a question?
Send us an email!
We are happy to answer any questions you may have!
Copyright 2017 - The Catholic Man Show