4 ways to Escape the State of Lukewarmness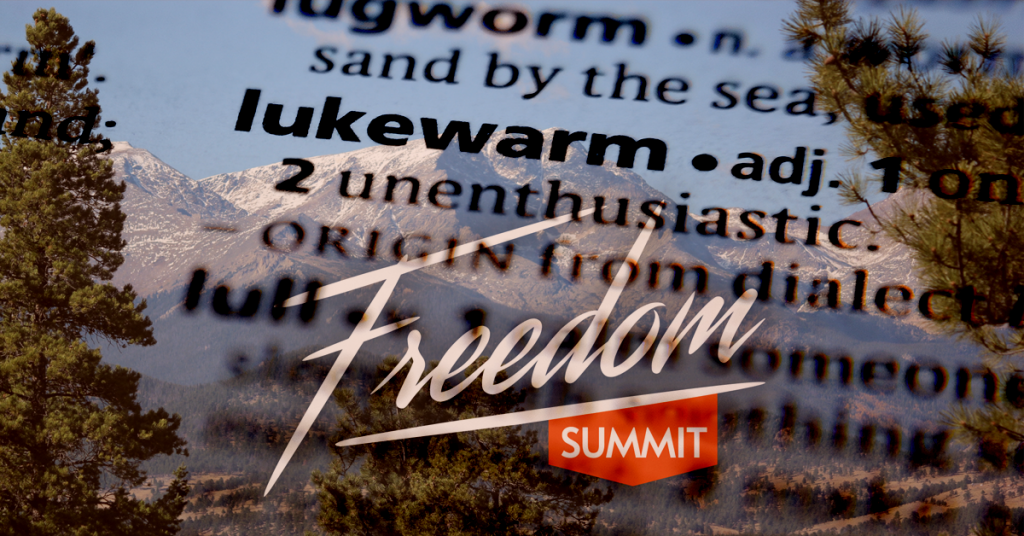 "So, because you are lukewarm, neither hot nor cold, I will spit you out of my mouth." Revelation 3:16
Don't be God's vomit.
Many men fall into the trap of being apathetic to their vocation. They have grown complacent in their state in life and repeatedly delay in responding to God's constant calling to share in the great adventure of the Christian life. Perhaps you know someone who is lukewarm? Maybe this describes you?
An early twentieth-century French Dominican friar named Fr. Reginald Garrigou-Langrange, probably best known for his spiritual theology, provides four means of escaping the treacherous state of lukewarmness.
A Good Retreat – We need to make time for rest. In this age of total work mentality, when we say 'make time for rest', we do not mean make time to do nothing, but make time for rest which is an attitude of the mind and condition of the soul (if you have not read, Leisure the Basis of Culture by Josef Pieper, now is the time!). In fact, we were made for rest, namely eternal rest in Him. Our Lord tells us that if we are weary, to come to Him, and He will give us rest. When we rest in Him, we have a receptive mind that allows Christ to speak to and penetrate our hearts.
Spiritual Direction – A spiritual director is not always easy to come by. If one is not attainable, we should harken back to the Catholic spiritual masters to elevate us little by little toward those summits to which our destiny as sons of God calls us. They can give us a unique perspective we might otherwise be blind to. Likewise, we must rely on our community to keep us on the straight and narrow path. Isolation deprives us of the material needs, intellectual guidance, and moral support needed to pursue a life of virtue. True friendship is ordered toward a virtuous life, and pursuing one without the other is self-defeating. We are made for communion, as human friendship gives us a better understanding of entering into friendship with God. Spending time with our friends, both in heaven and on earth, is needed to receive spiritual direction and bring to light the areas in life causing us to stubble or fall.
A Cross – Men are made to sacrifice. The question is, what are we putting on the altar to be sacrificed? We all experience hardships, but do we allow these hardships to illuminate our absolute need for God? The Christian understanding of sacrifice is not concerned with the pain or worry it will cause but with salvation. Fr. Garigou-Langrange says beautifully, "Life itself teaches us that the strength of a soul in the midst of trial and temptations comes from its practical and experiential consciousness of the infinite value of Redemption, of the omnipotent efficacy of Christ's death on the Cross." Are we willing to unite our sacrifices to the Cross of Salvation so that He may purify us, sanctify us, and prepare us for our eternal destiny? The Cross is not an option for the Christian life, it is a necessity.
Prayer – When was the last time you knelt in prayer and allowed God to speak to you? Is prayer the most important thing you do in your day? Just as a conversation is needed for the growth of human friendship, so too is prayer, the lifeblood of entering into friendship with God. Even when we do not feel like praying, especially when we do not feel like praying, we should offer that time to God and give it to Him in charity. If you do not have a regimented prayer life, pick a couple of times throughout the day that you could carve 5 minutes in prayer and put those times on your calendar—the spiritual fathers always suggest first thing in the morning.
If we are not continually examining our lives, surrounding ourselves with other holy friends, and spending time with our Lord in prayer, it is very easy to fall into the trap of being lukewarm. I want to personally invite you to a four-day retreat on October 12-15, 2023. Catholic men from all over the world will gather together, receiving spiritual direction from monks and friars to live the life we were called to live. It will involve a cross. You will have to sacrifice a long weekend away from your everyday life, but in return, you will receive silent contemplative time with our Lord, deep discussions with men who desire to live a life in Christ, and ways to share what you have learned with those you see on a daily basis. The weekend will help form you to be who you are called to be—a disciple of Christ. Take it to prayer. We will see you in October.
---
Join us for the Exodus 90 Freedom Summit – October 12-15, 2023 in Estes Park, Colorado.