6 things to do for a holy life according to St. John XXIII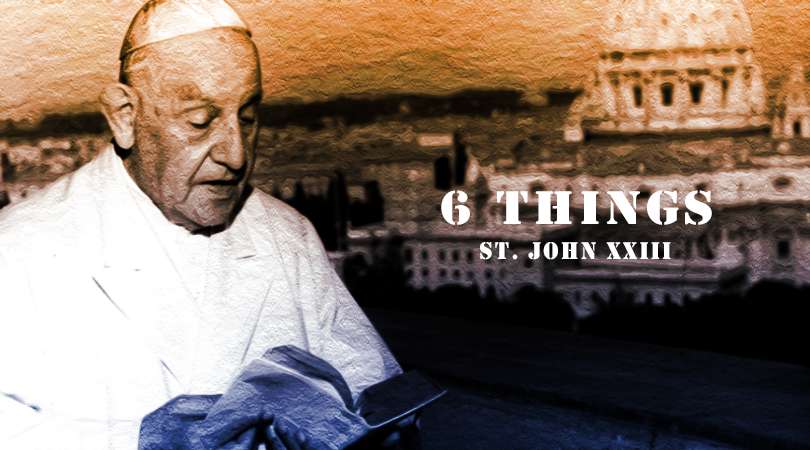 1.) Keep Christ before you
I keep before me at all times the crucifix; it is the secret of my ministry and a summary of my time as pope. Those open arms of Christ there, they have been what I wanted for the Church, to open our arms to all. These arms remind us that Christ died for all. When I say "died for all" I mean really and truly everyone on earth, excluding no one from his love and forgiveness. – St. Pope John XXIII
2.) Search for everyday holiness
Everyone calls me by the title "Holy Father." Well, then, holy I must be! I am very far away from actually being holy enough, however. Yet, it is what I desire above all. I am determined that I will move in that direction. Such holiness means I must be willing to be opposed and even humiliated, whether my opponents are right or wrong. It means I must respond to the needs of the Church, to put myself at the service of others. It means I must be aware that I am only an eathern vessel, that I am "nothing," in order to let the Lord shine through me. It leads me to be grateful to others, to love sincerely, to be calm in the face of the storm, to be gentle in my treatment of others, and to work unceasingly in love. This is all there is. – St. Pope John XXIII
3.) Trust that God is leading you
My secrete is that I believe I must live in obedience regarding everything in my life and the Church. This attitude of trusting where God is leading me, even though I know I am a sinner, give me great strength and daring, in a simple sort of way, which leads others to Christ by example. Because my actions flow from God's own directives, they are received with respect by most people. I am humbeld by this and I pray: Lord,  I am indeed not worthy. Be my strength now and always, be the source of my happiness. You are my God! You are my mercy! – St. Pope John XXIII
4.) Be strong, but be humble
The way in which people welcome me an the affection that so many people show me, always comes as a great surprise! The secret of my success in this area is that I do not search into things that are above my ability and I am quite content to be meek and humble. Meekness and humility put other people at ease and make me gracious in meeting them, in takling together, and in dealing with peole in general. This is so because if one is humble, what does he have to lose in showing love? Above all, I am always ready for the Lord's surprise moves. You never know what happiness or pain you may be called on to bear. – St. Pope John XXIII
5.) Grow and change constantly
Ever since I finsihed the Spiritual Exercises (of St. Ignatius), I feel the need to start over on my spiritual journey. Much as I hate to admit this I am still a poor sinner: I am not loyal enough; I'm proud beyone belief; I'm not thinking clearly; My manners are poor; and I feel worthless. Oh Jesus, have mercy on me! – St. Pope John XXIII
6.) Always look forward with hope
When he was my age, my mentor and friend Bishop Radini was dying. Sometimes when I remember that, I am tempted to think of myself as an old man. I must resist this thinking. Despite how old I might look inside I want to keep a youthfulness of spirit, a modernity of mind. I think this youthfulness pleases God; it's a good example to others and it's good for me, too. After all, it's my duty to fill others with joy and optimism. I am thankful to God that I prefer to look forward rather than backward. I carry with me wonderful memories of old friends but instead of dwelling in "what was" I look forward to the glory of "what will be." As we say good bye to our dear family and friends throughout life, we weep and wave goodbye. But these very same people are the ones waiting at the dock to welcome us when we arrive where they have gone. – St. Pope John XXIII
THE PRAYER OF SAINT JOHN XXIII
Oh God, open our hearts now and renew us in the spirit of St. John XXIII.
Take away our fear of this modern world, as Pope John urged us to do. Help us befriend all women and men as our sisters and brothers. Guide us to be true partners with others in our modern times so that science, technology, and medicine may better serve your purpose and heal your people.
Take away all that divides us, as Pope John taught us. May all religions and cultures come together as one people, your people, O God of the nations. Guide us to understand more fully what the gospel demands of us here today, and help us be faithful to your law of love.
Take away our judgments and condemnations of others, as Pope John showed us by example. Give us hearts filled with tender love for the poor, the vulnerable, and the rejected. Guide us to open our wallets as well as our hearts and share wisely all the produce of the earth so that no one will starve or suffer because of need.
Amen.
---
The idea for this blog came from a book I read, "The Spiritual Wisdom of St. John XXIII" by Bill Huebsch. I picked it up because I wanted to learn more about St. Pope John XXIII and read some of his writings. I recommend this quick read if you are interested.