BONUS! Audiobook: St. Dominic
BONUS! We originally produced this audiobook for our patrons but in honor of St. Dominic's feast day, we wanted to make it available to everyone. If you become a patron, you can have access to over 60 audiobooks/interviews we have produced over the last 6 years plus some really cool thank you gifts. Check it out!
---

WE ARE GOING TO IRELAND WITH FR. SEAN DONOVAN AND THERE ARE STILL A FEW SPOTS LEFT! JOIN US – MORE DETAILS HERE.
---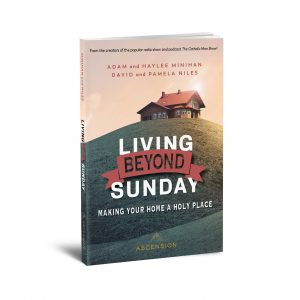 Our new book is available for pre-order from Ascension Press!
"I love this book. It provides wise counsel with beautiful simplicity. So, if you are looking to safeguard your family life from the wiles of the enemy and encourage your spouse and children to become the saints God is calling them to be, this is a book for you." – Fr Gregory Pine
Home life can be difficult and busy, and it's easy to get distracted from the point of it all: raising a family of saints.
In Living Beyond Sunday: Making Your Home a Holy Place, two married couples share what has helped them make their homes a place of encounter with God–a place where saints are being made.
---