Discernment of Spirits – Part One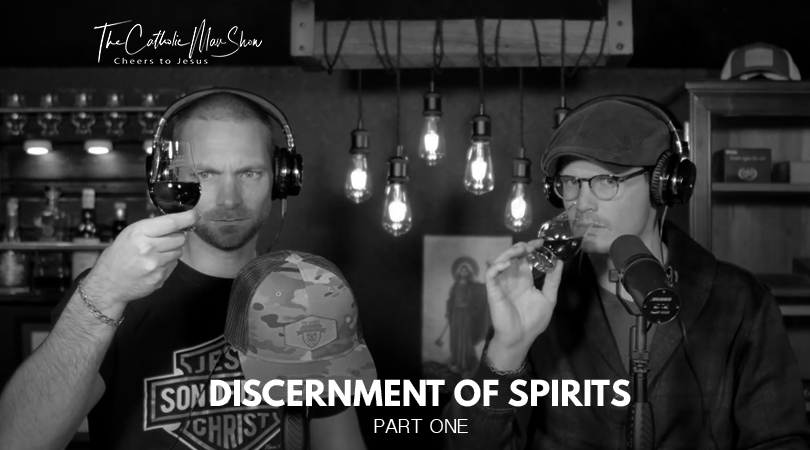 This week we pull from Fr. Timothy M. Gallagher, The Discernment of Spirits, to discuss spiritual peaks and valleys and when to make decisions and when not to.
Scroll to the bottom of the page for the show transcript
ENJOY THE SHOW AND WOULD LIKE TO SEE MORE? SUPPORT TCMS, GET AWESOME THANK YOU GIFTS, AND HELP SPREAD THE WORD.
JOIN US FOR THE COURSE STARTING IN JANUARY

About our drink:
Subtle nose of golden delicious apple-meat and honey. Sweet floral verbena, fresh cut grass, saddle leather, cinnamon and honey. Springtime flavors of honeysuckle and orange candy, yellow pound cake, baking spices, lemon gumdrops, and sugar cookies. Long and engrossing finish. Complex. Smoky county fair caramel apple sprinkled with walnuts and cinnamon.
We found this bourbon to be complex and delicious. Worth the price point.
About our gear:
The book: The Discernment of Spirits: An Ignatian Guide for Everyday Living
St. Ignatius Loyola, founder of the Jesuits, is one of the most influential spiritual leaders of all time, yet many readers find his Rules for Discernment hard to understand. What can Ignatius teach us about the discernment of spirits that lies at the very heart of Christian life? In The Discernment of Spirits, Fr. Timothy Gallagher, a talented teacher, retreat leader, and scholar, helps us understand the Rules and how their insights are essential for our spiritual growth today. By integrating the Rules and the experience of contemporary people, Gallagher shows the precision, clarity, and insight of Ignatius's Rules, as well as the relevance of his thought for spiritual life today. When we learn to read Ignatius correctly, we discover in his remarkable words our own struggles, joys, and triumphs. This book is for all who desire greater awareness of God's action in their daily spiritual lives, and is essential reading for retreat directors, spiritual directors, priests, and counselors.
About the Topic:
First Rule
In persons who are going from mortal sin to mortal sin, the enemy is ordinarily accustomed to propose apparent pleasures to them, leading them to imagine sensual delights and pleasures in order to hold them more and make them grow in their vices and sins. In these persons the good spirit uses a contrary method, stinging and biting their consciences through their rational power of moral judgment.
Second Rule
In persons who are going on intensely purifying their sins and rising from good to better in the service of God our Lord, the method is contrary to that in the first rule. For then it is proper to the evil spirit to bite, sadden, and place obstacles, disquieting with false reasons, so that the person may not go forward. And it is proper to the good spirit to give courage and strength, consolations, tears, inspirations, and quiet, easing and taking away all obstacles, so that the person may go forward in doing good.
Third Rule
The third is of spiritual consolation. I call it consolation when some interior movement is caused in the soul, through which the soul comes to be inflamed with love of its creator and Lord, and, consequently when it can love no created thing on the face of the earth in itself, but only in the Creator of them all. Likewise when it sheds tears that move to love of its Lord, whether out of sorrow for one's sins, or for the passion of Christ our Lord, or because of other things directly ordered to His service and praise. Finally, I call consolation every increase of hope, faith, and charity, and all interior joy that calls and attracts to heavenly things and to the salvation of one's soul, quieting it and giving it peace in its Creator and Lord.
Fourth Rule
The fourth rule is of spiritual desolation. I call desolation all the contrary of the third rule, such as darkness of soul, disturbance in it, movement to low and earthly things, disquiet from various agitations and temptations, moving to lack of confidence, without hope, without love, finding oneself totally slothful, tepid, sad and, as if separated from one's Creator and Lord. For just as consolation is contrary to desolation, in the same way the thoughts that come from consolation are contrary to the thoughts that come from desolation.
Fifth Rule
In time of desolation never make a change, but be firm and constant in the proposals and determinations in which one was the day preceding such desolation, or in the determination in which one was in the preceding consolation. Because, as in consolation the good spirit guides and counsels us more, so in desolation the bad spirit, with whose counsels we cannot find the way to a right decision.
Sixth Rule
Although in desolation we should not change our first proposals, it is very advantageous to change ourselves intensely against the desolation itself, as by insisting more upon prayer, meditation, upon much examination, and upon extending ourselves in some suitable way of doing penance.
Seventh Rule
Let one who is in desolation consider how the Lord has left him in trial in his natural powers, so that he may resist the various agitations and temptations of the enemy; since he can resist with the divine help which always remains with him, though he does not clearly feel it; for the Lord has taken away from him his great fervor, abundant love, and intense grace, leaving him, however, sufficient grace for eternal salvation.
---
The Catholic Woodworker:
Check out The Catholic Woodworker's home altars. USE PROMO CODE "TCMS" for 10% off and so they know we sent you!
Prayer Card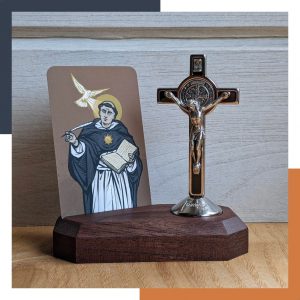 ---
TIME CODES: If this is your first time listening to The Catholic Man Show, we do 3 things almost every episode:1.) Open, review, and enjoy a man beverage – Minutes 1-12.2.) Highlight a man gear – Minutes 12-24.3.) Have a manly conversation – Minutes 24-48If you haven't listened to The Catholic Man Show before, check out our previous episodes here. Subscribe to our  YouTube channel to watch past episodes.
---
OnlineGreatBooks.com provides accountability, curation, community, and personal growth. SIGN UP USING PROMO CODE, "CATHOLICMAN" AND GET 25% OFF THE FIRST 3 MONTHS.

---
Want to help The Catholic Man Show?
By giving us a rating on iTunes, it helps others find the show.
Want to say up with The Catholic Man Show? Sign up for our mailing list: Click Here
Looking for a prayer to pray with your wife? Check this blog out.
Are you getting our emails? Sign up for our (almost) monthly newsletter where we give you all bacon content – never spam.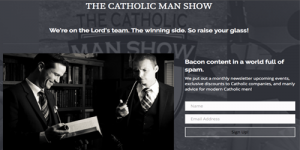 ---
If you enjoyed this episode of The Catholic Man Show and are looking to protect your family from the dangers of the internet, go to Covenant Eyes and use promo code "Catholicman" for a 30-day free trial of keeping your family safe.