Friendliness, Flattery, and Fatherhood
Friendliness, Flattery, and Fatherhood
We are looking for a few men who are taking their faith seriously. Support the show – Get awesome thank you gifts
An audio recording of the promotion to the devotion of the Most Precious Blood
About our drink:
Glenfarclas 12 Scotch Whisky is adored for its sherry bomb, spicy notes, sweet and dried fruit flavor notes.
This Scotch is carefully distilled at Glenfarclas distillery, Speyside.
About our gear:
Meater+
Watch this video then check out their website
Our topic:
Friendliness, flattery, and fatherhood.
Check out the Summa
"It behooves man to be maintained in a becoming order towards other men as regards their mutual relations with one another, in point of both deeds and words, so that they behave toward one another in a becoming manner." 
In regards to friendliness: the virtuous man will sometimes not shrink from bringing sorrow to those among whom he lives… For this reason we should not show a cheerful face to those who are given to sin, in order that we may please them, lest we seem to consent to their sin, and in a way encourage them to sin further.
Check out this blog by Dr. Edward Feser
If this is your first time listening to The Catholic Man Show, we do 3 things almost every episode:
TIME CODES:
1.) Open, review, and enjoy a man beverage – Minutes 1-12.
2.) Highlight a man gear – Minutes 12-24.
3.) Have a manly conversation – Minutes 24-48
If you haven't listened to The Catholic Man Show before, check out our previous episodes here.
Subscribe to our  YouTube channel to watch past episodes.
OnlineGreatBooks.com provides accountability, curation, community, and personal growth. SIGN UP USING PROMO CODE, "CATHOLICMAN" AND GET 25% OFF THE FIRST 3 MONTHS.

Want to help The Catholic Man Show?
By giving us a rating on iTunes, it helps others find the show.
Want to say up with The Catholic Man Show? Sign up for our mailing list: Click Here
Looking for a prayer to pray with your wife? Check this blog out.
Are you getting our emails? Sign up for our (almost) monthly newsletter where we give you all bacon content – never spam.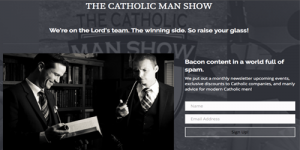 If you enjoyed this episode of The Catholic Man Show on spiritual warfare and are looking to protect your family from the dangers of the internet, go to Covenant Eyes and use promo code "Catholicman" for a 30-day free trial of keeping your family safe.