Preparing you and your family for Holy Mass
Easy like Sunday morning? I don't think so. This week we discuss ways to better prepare you and your family for Holy Mass.
Scroll to the bottom of the page for the show transcript
Check out our store and find TCMS stocking caps and hats

ENJOY THE SHOW AND WOULD LIKE TO SEE MORE? SUPPORT TCMS, GET AWESOME THANK YOU GIFTS, AND HELP SPREAD THE WORD.
Become a Patron! Over 40 interviews, a course with Karlo Broussard, a 10 part series on the domestic church, and free thank you gifts for supporting the show!
---

Travel to Italy, the Holy Land, Scotland, or Europe. Take a Catholic pilgrimage cruise or mix in Faith and Food or Faith and Fitness. No matter where you travel with Select, you will be embraced by faith. All our trips feature daily mass, unparalleled access to sacred sites, local guides that speak your language, and excellent accommodations. We have been helping pilgrims put their feet in the places their faith began for over 30 years. We want to help YOU experience the fun and faith-enriching power of pilgrimage. Click here
---
About our drink:
Caribou Crossing holds the distinction of being the world's first single barrel Canadian whisky. Made from the finest sampling of our master collection of 200,000 barrels of whisky and designed to reinvent the Canadian whisky category.
About our gear:
Drop cloths
A drop cloth is a sheet of material used by painters to protect floors and furniture from the drips and drabs that can trickle down from above. If you have a paintbrush in one hand and a paint can in the other, there should always be a drop cloth underneath you. That's one of the cardinal rules of painting. But you can do more with a drop cloth than just prevent paint from getting everywhere – let's discuss.
About the Topic:
How to prepare you and your family for the Holy Sacrifice of the Mass:
1. Arrive early
a.       If you aren't early, you're late
b.      Sundays can be stressful, you need time to decompress
2.       Silence
a.       Must be practiced for children and adults
b.      Especially the minutes before Mass
c.       If you want to take your preparation to the next level then try to adopt a mantra of silence beginning when you rise on Sunday until after Holy Mass
                                                               i.      "The person who talks constantly grows empty, and his emptiness is not only momentary… Only the word that emerges from silence is substantial and powerful." Romano Guardini – Meditations Before Mass
3.       Composure
a.       Silence (at least interior) is a prerequisite for composure, but composure is one step beyond silence
                                                               i.      Silence overcomes noise, composure overcomes distractions
                                                             ii.      Composure is a silence that penetrates our interior
                                                            iii.      Composure is what allows us to be present
1.       "Once composure has been established, the liturgy is possible.  Not before."
b.      This is why we need to arrive early, so we have time to compose ourselves
                                                               i.      When you arrive honestly confront your restlessness, distractions, and disorder
4.       Prepare your gifts for the altar
a.       Our tithe should not be given as if we are paying a bill
b.      "When we place the money in the basket, let it be with reverence to God and with charity to all." RG
c.       Our gift should be a true sacrifice
5.       Know the readings
a.       Can help overcome distractions during Mass: kids
b.      Meditate on them before Mass.
c.       Read the readings every day.  Gives deeper perspective and insight into the narrative
6.       Have a prayer intention for the Mass
a.       Helps me invest myself emotionally into the liturgy
b.      A Mass without an intention is a wasted oportunity
---
CONGRATULATIONS TO The Catholic Woodworker FOR OPENING UP A NEW OFFICE BUILDING! WE ARE GRATEFUL FOR YOUR SUPPORT AND INCREDIBLY HAPPY FOR YOUR CONTINUED SUCCESS:
Use promo code TCMS10 for 10% off all purchases.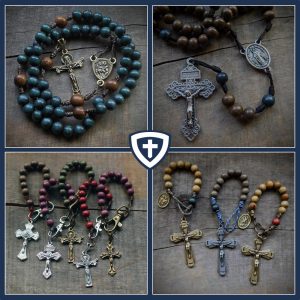 ---
TIME CODES: If this is your first time listening to The Catholic Man Show, we do 3 things almost every episode:1.) Open, review, and enjoy a man beverage – Minutes 1-12.2.) Highlight a man gear – Minutes 12-24.3.) Have a manly conversation – Minutes 24-48If you haven't listened to The Catholic Man Show before, check out our previous episodes here. Subscribe to our  YouTube channel to watch past episodes.
---
Want to help The Catholic Man Show?
By giving us a rating on iTunes, it helps others find the show.
Want to say up with The Catholic Man Show? Sign up for our mailing list: Click Here
Looking for a prayer to pray with your wife? Check this blog out.
Are you getting our emails? Sign up for our newsletter where we give you all bacon content – never spam.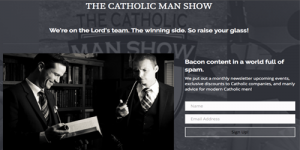 ---
If you enjoyed this episode of The Catholic Man Show and are looking to protect your family from the dangers of the internet, go to Covenant Eyes and use promo code "Catholicman" for a 30-day free trial of keeping your family safe.