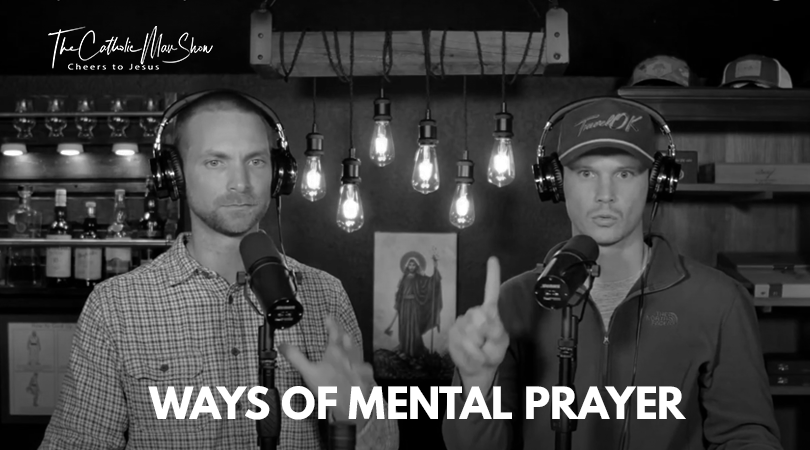 Ways of Mental Prayer
Scroll to the bottom of the page for the show transcript
ENJOY THE SHOW AND WOULD LIKE TO SEE MORE? SUPPORT TCMS, GET AWESOME THANK YOU GIFTS, AND HELP SPREAD THE WORD.
JOIN US FOR THE COURSE STARTING IN JANUARY

About our drink:
GlenAllachie 12
The flagship in GlenAllachie's new core range, released in July 2018. Matured in a mixture of virgin oak, oloroso sherry and Pedro Ximénez sherry casks, this has sweet flavours of honey, marzipan, bananas and butterscotch.
The GlenAllachie Distillery sits on the Aberlour stream near where it empties into the River Spey. It was built there — less than a mile from the more famous Aberlour Distillery at the base of Ben Rinnes — in 1967 to produce Spirit for Scotch blends. It has been purchased, sold, mothballed, and opened again no fewer than four times since then.
About our gear:
Books that helped in our prayer life:
Adam's: The Ways of Mental Prayer and Introduction to the Devout Life
David's: Dark Night of the Soul and Discernment of Spirits 
Jim's and Juan's: Consecration to St. Joseph
About the Topic:
Everyone wants to have a better prayer life. Vocal prayer seems to come naturally for most, but mental prayer isn't as easy and at times can be intimidating on how to begin. This week we pull from a book by Fr. Vital Lehodey called, "The Ways of Mental Prayer". This book, with an introductory letter from Pope St. Pius X, gives us a manual on how to engage in mental prayer, which is an elevation of the soul to God, to adore him, to thank him, to beg pardon, and ask for graces.
Dom Vital Lehodey was the fourth abbot of the Trappist monastery of Notre-Dame-de-Grace in Bricquebec, Normandy, France. In THE WAYS OF MENTAL PRAYER, he offers a systematic presentation of the teachings on contemplative prayer of St. Teresa of Avila, St. John of the Cross, St. Francis of Sales, St. Alphonsus of Liguori, St. Bernard of Clairvaux, and many more. Part One introduces the reader to contemplative or "mental" prayer. Part Two gives instructions for discursive meditation, affective prayer, and the prayer of simplicity. "As time goes on," writes the author, "and we make progress, we shall feel drawn to a more simple form of prayer, in which the mind begins to be silent in order to let the heart speak." Part Three describes the mystical states of quiet and union, and gives practical advice for those graced with these higher forms of prayer.
---
The Catholic Woodworker:
Check out The Catholic Woodworker's home altars. USE PROMO CODE "TCMS" for 10% off and so they know we sent you!
Prayer Card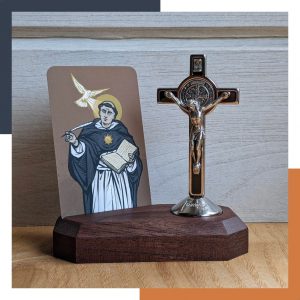 ---
TIME CODES: If this is your first time listening to The Catholic Man Show, we do 3 things almost every episode:1.) Open, review, and enjoy a man beverage – Minutes 1-12.2.) Highlight a man gear – Minutes 12-24.3.) Have a manly conversation – Minutes 24-48If you haven't listened to The Catholic Man Show before, check out our previous episodes here. Subscribe to our  YouTube channel to watch past episodes.
---
OnlineGreatBooks.com provides accountability, curation, community, and personal growth. SIGN UP USING PROMO CODE, "CATHOLICMAN" AND GET 25% OFF THE FIRST 3 MONTHS.

---
Want to help The Catholic Man Show?
By giving us a rating on iTunes, it helps others find the show.
Want to say up with The Catholic Man Show? Sign up for our mailing list: Click Here
Looking for a prayer to pray with your wife? Check this blog out.
Are you getting our emails? Sign up for our (almost) monthly newsletter where we give you all bacon content – never spam.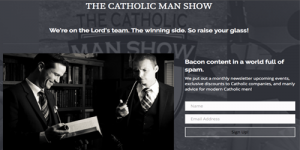 ---
If you enjoyed this episode of The Catholic Man Show and are looking to protect your family from the dangers of the internet, go to Covenant Eyes and use promo code "Catholicman" for a 30-day free trial of keeping your family safe.