Hot Sauce and Movies – Episode 144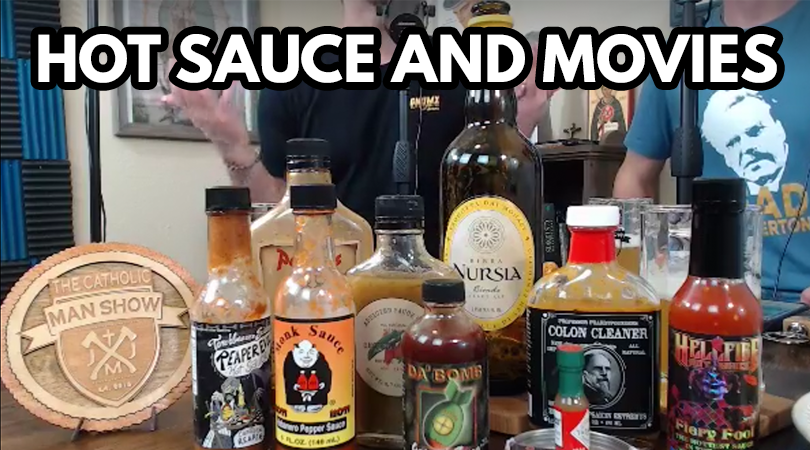 Andrew Pudewa joins us to talk hot sauce and movies
Andrew Pudewa is the director of the Institute for Excellence in Writing and a father of seven. Traveling and speaking around the world, he addresses issues related to teaching, writing, thinking, spelling, and music with clarity, insight, practical experience, and humor. His seminars for parents, students, and teachers have helped transform many a reluctant writer and have equipped educators with powerful tools to dramatically improve students' skills.
We talk on a variety of topics in this episode including wine, hot sauce, beer, movies, wonder, and imagination. Be sure to watch the whole episode on YouTube!
If this is your first time listening to The Catholic Man Show, we do 3 things every episode:
1.) Open, review, and enjoy a man beverage – Minutes 1-12.
2.) Highlight a man gear – Minutes 12-24.
3.) Have a manly conversation – Minutes 24-48.
DRINK: Juggernaut Cab Wine
GEAR: Hot Sauce
TOPIC: Movies
Movie list:
1.) Sound of Music
2.) A Man for All Seasons
3.) The Scarlet and the Black
4.) Joan of Arc
5.) Exorcism of Emily Rose
6.) To End All Wars
7.) Little Boy
8.) Collateral Beauty
Andrew Pudewa on Youtube:


If you haven't listened to The Catholic Man Show before, check out our previous episodes here.
Want to help The Catholic Man Show?
By giving us a rating on iTunes, it helps others find the show.