The One Chip Challenge and Piety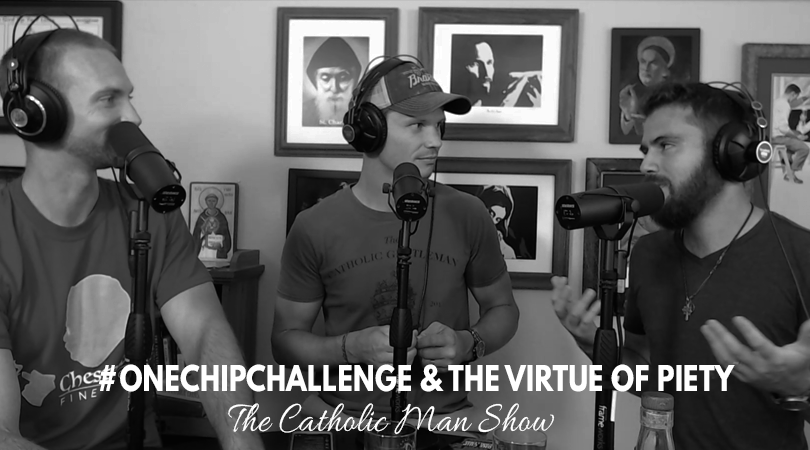 Sam Guzman, from The Catholic Gentleman, joins us for the One Chip Challenge and to talk about the virtue of piety
This episode on piety is sponsored by Covenant Eyes. Use promo code "catholicman" to get a 30-day free trial in protecting you and your family from the dangers of the internet.
About our drink:
High Five Spirits Mackinac Island Rum
Released in May 2018. Bourbon Barrel Aged for 8 years in old American white oak barrels. This Great Lakes Style Rum is blended in Northern Michigan using flavors like cinnamon and nutmeg and is finished with chocolate fudge from Murdick's on Mackinac Island. Our handcrafted Great Lakes Rum is a warm greeting and friendly postcard from Mackinac Island, a sailors true paradise.
About the gear:
The American Flag was our gear for the day.
However, through the second segment, we tried and completed the #OneChipChallenge. Here's what the website says about it:
The #OneChipChallenge is back and the new, hotter-than-hell chip looks as deadly as it tastes. This year's version contains a blue corn chip dipped in an intense amount of black seasoning made with the infamous Carolina Reaper Pepper, certified by the Guinness World Records as the world's hottest chili pepper.
You can watch how it went here:
About our topic:
The virtue of piety.
Here's what Aquinas says on piety.
A special virtue is one that regards an object under a special aspect. Since, then, the nature of justice consists in rendering another person his due, wherever there is a special aspect of something due to a person, there is a special virtue. Now a thing is indebted in a special way to that which is its connatural principle of being and government. And piety regards this principle, inasmuch as it pays duty and homage to our parents and country, and to those who are related thereto. Therefore piety is a special virtue.
About our guest:
Sam Guzman is an author, blogger, and occasional poet, and his work has appeared in such publications as Catholic Exchange, Aleteia, Truth and Charity Forum, Jesus the Imagination, and The Christian Science Monitor. He is a frequent guest on EWTN, Magnificat Radio, Radio Maria and other media outlets.
Drinking: Mackinac Island Rum
Gear: The American Flag and the One Chip Challenge
Discussing the virtue of piety
If this is your first time listening to The Catholic Man Show, we do 3 things almost every episode:
TIME CODES:
1.) Open, review, and enjoy a man beverage – Minutes 1-12.
2.) Highlight a man gear – Minutes 12-24.
3.) Have a manly conversation – Minutes 24-48.
If you haven't listened to The Catholic Man Show before, check out our previous episodes here.
Want to help The Catholic Man Show?
By giving us a rating on iTunes, it helps others find the show.
Want to say up with The Catholic Man Show? Sign up for our mailing list: Click Here
Looking for a prayer to pray with your wife? Check this blog out.
Are you getting our emails? Sign up for our (almost) monthly newsletter where we give you all bacon content – never spam.