Raising upright kids in an upside-down world with Dr. Ray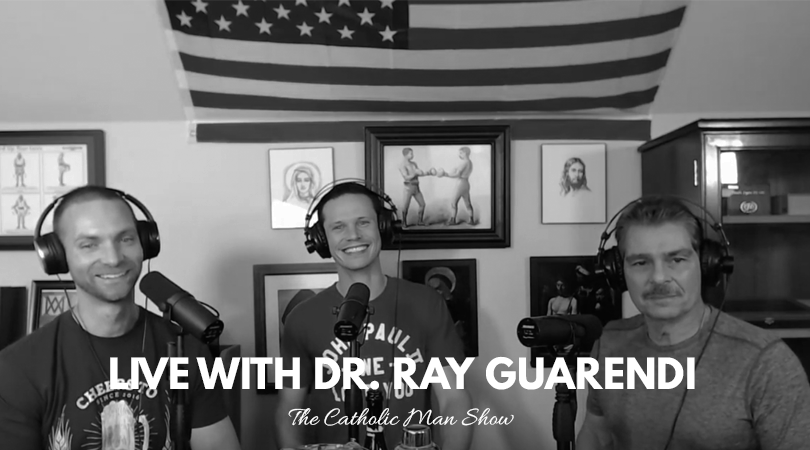 Raising upright kids in an upside-down world with Dr. Ray Guarendi
If you enjoyed this episode of The Catholic Man Show on the roles of parents and are looking to protect your family from the dangers of the internet, go to Covenant Eyes and use promo code "Catholicman" for a 30-day free trial of keeping your family safe.
We are looking for a few men who are taking their faith seriously.
If you enjoyed this episode with our wives then join us on Patreon: Extra content, great thank you gifts, exclusive access to Adam and David, private FB page, and much more.
Dr. Ray brings to bear his decades of clinical experience and his experience as a father of ten with some of the hardest questions of modern parenting:
How do you manage kids access to pop culture and to the corporations who all want a piece of their allowance?
How do you respond to others, including your own family, who don't approve of your countercultural parenting?
How do you handle the overabundance of stuff toys, clothes, technology that clogs up your family's everyday life?
When do you give (or take away) a smartphone?
How much freedom do you give your kids to choose their own friends and when do you step in when they make wrong choices?
What are the habits of mind you need to form in them so they can stand strong against a morally and spiritually corrosive culture?
Raising Upright Kids in an Upside-Down World is a clarion call for strong, confident parenting in confusing times. More importantly, Dr. Ray gives you the resources to grow in that confidence: the knowledge of an expert, the insight of an experienced clinician, and the wisdom of decades of fatherhood. This is a book for parents who aim to form children who value the things of God, no matter the work and the effort. Dr. Ray is here to tell you: it's worth it.
Enjoy this episode? Make sure to get his new book here.
About our drink: Mimosa with a vanilla vodka shot
About the gear: N/A
About our topic: Raising up-right kids in an upside-down world
If this is your first time listening to The Catholic Man Show, we do 3 things almost every episode:
TIME CODES:
1.) Open, review, and enjoy a man beverage – Minutes 1-12.
2.) Highlight a man gear – Minutes 12-24.
3.) Have a manly conversation – Minutes 24-48.
If you haven't listened to The Catholic Man Show before, check out our previous episodes here.
Subscribe to our YouTube channel to watch past episodes.
Want to help The Catholic Man Show?
By giving us a rating on iTunes, it helps others find the show.
Want to say up with The Catholic Man Show? Sign up for our mailing list: Click Here
Looking for a prayer to pray with your wife? Check this blog out.
Are you getting our emails? Sign up for our (almost) monthly newsletter where we give you all bacon content – never spam.