Reverence Theory and the Age of St. Joseph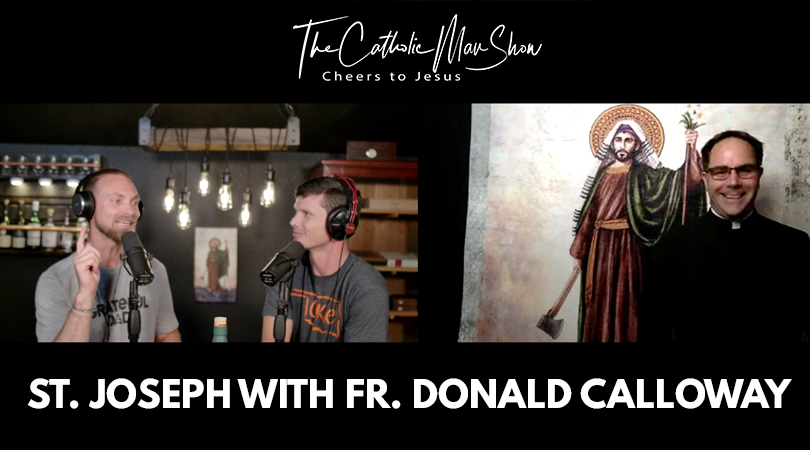 Fr. Donald Calloway joins us to talk about St. Joseph
We are looking for a few men who are taking their faith seriously. Support the show – Get awesome thank you gifts
New Patreon Post – Pope Leo XIII on the Devotion of the Rosary: Supremi Apostolatus Officio
About our drink:
A great peated offering from India's Amrut, "from the land of the Great Himalayas". Jim Murray speaks very highly of this, giving it 94 points. Rich and intense.
More from The Whisky Reviewer…
About our gear:
Consecration to St. Joseph
In the midst of crisis, confusion, and a world at war with the Church, it's time to come home again to our spiritual father, St. Joseph. In this richly researched and lovingly presented program of consecration to St. Joseph, Fr. Donald Calloway, MIC, brings to life the wonders, the power, and the ceaseless love of St. Joseph, Patron of the Universal Church and the Terror of Demons.
Our topic:
Drawing on the wealth of the Church's living tradition, Fr. Donald Calloway, MIC, calls on all of us to turn to St. Joseph, entrust ourselves, our Church, and our world to our spiritual father's loving care, and then watch for wonders when the Universal Patron of the Church opens the floodgates of Heaven to pour out graces into our lives today. Definitely a book for our time, Consecration to St. Joseph is dedicated to meeting the challenges of the present moment and restoring order to our Church and our world, all through the potent paternal intercession and care of St. Joseph. This book has everything you need to take your love and devotion to St. Joseph to a whole different level: a thorough program of consecration to St. Joseph; information on the 10 wonders of St. Joseph; and prayers and devotions to St. Joseph. Accessible, motivating, this book will kick off a great movement of consecration to our spiritual father and change the world.

If this is your first time listening to The Catholic Man Show, we do 3 things almost every episode:
TIME CODES:
1.) Open, review, and enjoy a man beverage – Minutes 1-12.
2.) Highlight a man gear – Minutes 12-24.
3.) Have a manly conversation – Minutes 24-48
If you haven't listened to The Catholic Man Show before, check out our previous episodes here.
Subscribe to our  YouTube channel to watch past episodes.
OnlineGreatBooks.com provides accountability, curation, community, and personal growth. SIGN UP USING PROMO CODE, "CATHOLICMAN" AND GET 25% OFF THE FIRST 3 MONTHS.

Want to help The Catholic Man Show?
By giving us a rating on iTunes, it helps others find the show.
Want to say up with The Catholic Man Show? Sign up for our mailing list: Click Here
Looking for a prayer to pray with your wife? Check this blog out.
Are you getting our emails? Sign up for our (almost) monthly newsletter where we give you all bacon content – never spam.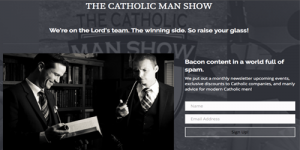 If you enjoyed this episode of The Catholic Man Show on spiritual warfare and are looking to protect your family from the dangers of the internet, go to Covenant Eyes and use promo code "Catholicman" for a 30-day free trial of keeping your family safe.