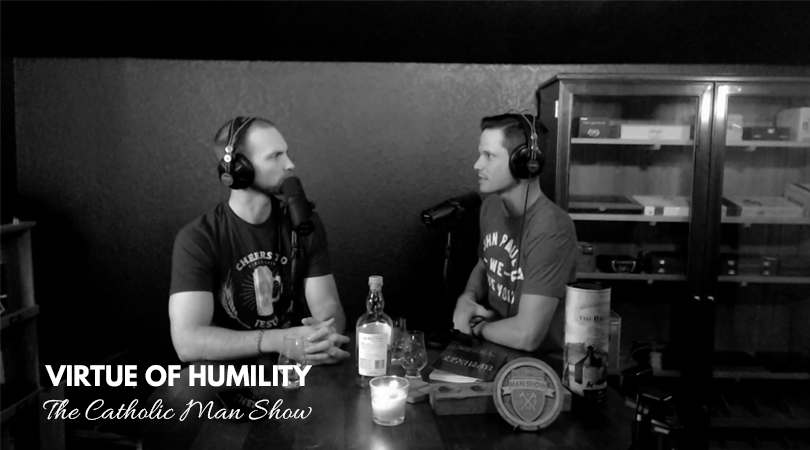 The Virtue of Humility

This show is sponsored by Select International Tours. If you are looking to take a pilgrimage anytime soon, don't risk going with a company that hasn't been in business very long. Select International Tours has been doing this for over 30 years – they know what they are doing. They know how to make your bucket list destinations become a reality.
We are looking for a few men who are taking their faith seriously.
If you enjoyed this episode with our wives then join us on Patreon: Extra content, great thank you gifts, exclusive access to Adam and David, private FB page, and much more.
Adam goes off the deep end in the topic so we had to extend the episode.
The book we discussed is only $5.65 currently on Amazon.
"Humility of Heart" by Fr. Cajetan Mary da Bergamo
"In Paradise, there are many Saints who never gave alms on earth: their poverty justified them. There are many Saints who never mortified their bodies by fasting, or wearing hair shirts: their bodily infirmities excused them. There are many Saints too who were not virgins: their vocation was otherwise. But in Paradise, there is no Saint who was not humble." – Fr. Cajetan Mary da Bergamo
Twelve  Steps  of  Humility
Step 1. A first step is taken when one consciously obeys all of God's commandments, never ignoring them but always holding within himself a fear of God in his heart.
Step 2. The second step is achieved when one thinks not about pleasing himself but instead follow the injunction of the Lord.
Step 3. The third step is reached when out of love of God, one obediently submits to a superior in imitation of the Lord.
Step 4. The fourth step is achieved when one, under obedience, patiently and quietly endures all thing that are inflicted on him.  It should make no difference whether the trials are painful, unjust or even completely beyond his understanding; he should neither tire nor give up.
Step 5. The fifth step is reached when one humbly discloses to his superior all the evil thoughts in his heart, as well as those faults and evil acts he has actually committed.
Step 6. To achieve the sixth step one must without qualms accept all that is crude and harsh; at all times he considers himself a poor and worthless workman.
Step 7. The seventh step is attained when one not only confesses that he is an inferior and common wretch, but believes it to his very core.  He must be willing to humble himself.
Step 8. One reaches the eighth step of humility when he does only that which is demanded by the common rule of his seniors.
Step 9. The ninth step can be achieved when one, practicing silence, only speaks when asked a question.
Step 10. The tenth step is climbed when one restrains himself from undue laughter and frivolity.
Step 11. To reach the eleventh step one must speak gently, without jests, but simply, seriously, tersely, rationally and softly.
Step 12. The final step is attained only when one can at all times show humility not only in his appearance and actions, but also in his heart.
About the gear: Humility of Heart
About our topic: Virtue of Humility
If this is your first time listening to The Catholic Man Show, we do 3 things almost every episode:
TIME CODES:
1.) Open, review, and enjoy a man beverage – Minutes 1-12.
2.) Highlight a man gear – Minutes 12-24.
3.) Have a manly conversation – Minutes 24-48.
If you haven't listened to The Catholic Man Show before, check out our previous episodes here.
Subscribe to our  YouTube channel to watch past episodes.
---
OnlineGreatBooks.com provides accountability, curation, community, and personal growth. SIGN UP USING PROMO CODE, "CATHOLICMAN" AND GET 25% OFF THE FIRST 3 MONTHS.

---
Want to help The Catholic Man Show?
By giving us a rating on iTunes, it helps others find the show.
Want to say up with The Catholic Man Show? Sign up for our mailing list: Click Here
Looking for a prayer to pray with your wife? Check this blog out.
Are you getting our emails? Sign up for our (almost) monthly newsletter where we give you all bacon content – never spam.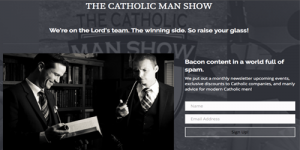 ---
If you enjoyed this episode of The Catholic Man Show on spiritual warfare and are looking to protect your family from the dangers of the internet, go to Covenant Eyes and use promo code "Catholicman" for a 30-day free trial of keeping your family safe.