Virtues in the Job Market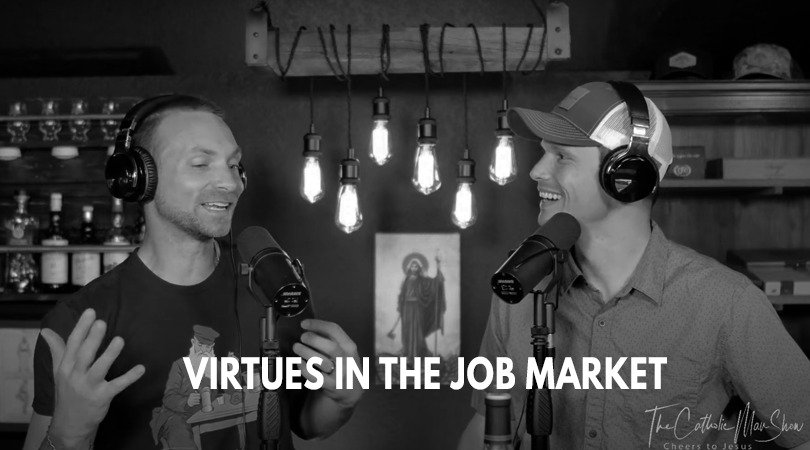 What are some good practices for interviewing for a job and leaving a current job? Let's discuss over a dram of Calumet 14
Scroll to the bottom of the page for the show transcript
Check out our store and find TCMS stocking caps and hats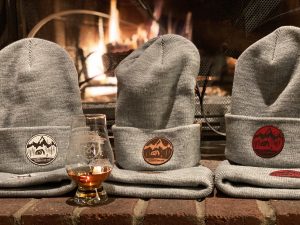 ENJOY THE SHOW AND WOULD LIKE TO SEE MORE? SUPPORT TCMS, GET AWESOME THANK YOU GIFTS, AND HELP SPREAD THE WORD.
Become a Patron! Over 40 interviews, a course with Karlo Broussard, a 10 part series on the domestic church, and free thank you gifts for supporting the show!
---

Travel to Italy, the Holy Land, Scotland, or Europe. Take a Catholic pilgrimage cruise or mix in Faith and Food or Faith and Fitness. No matter where you travel with Select, you will be embraced by faith. All our trips feature daily mass, unparalleled access to sacred sites, local guides that speak your language, and excellent accommodations. We have been helping pilgrims put their feet in the places their faith began for over 30 years. We want to help YOU experience the fun and faith-enriching power of pilgrimage. Click here
---
About our drink:
Calumet Farm Single Rack Black 14 Year Old Bourbon Whiskey represents both the prestigious nature and hard-earned quality of a premium Kentucky straight bourbon. It is painstakingly crafted from extremely small batches of 19 barrels. All barrels used are aged in a single, center cut rack from the ideal maturation location and conditions inside the rick house. This expression of the Calumet Farm Bourbon family is a true convergence of craftsmanship and flavor. It is Non-Chill Filtered for added depth of character and color.
This Bourbon is carefully distilled at Western Spirits Beverage Company distillery, United States.
About our gear:
What are the things you like most in your office?
About the Topic:
The topic is focused from the lens of Prudence:
Prudence is the first cardinal virtue for a reason; it is the virtue that teaches us knowledge of reality. From prudence, we gain the ability to discern what is good in every circumstance and to choose the right actions. St. Thomas Aquinas quotes Aristotle that "prudence is right reason applied to action" 
Foresight, a sub-virtue of prudence, is the ability to see into the future and direct actions toward an end. Foresight allows us to rightly order present actions to a good end, knowing that we can never fully predict the future.
Shrewdness, another sub-virtue of prudence. It means to be able to form both a correct and a quick opinion. This is done by developing the mental insight to read between the lines or finding the middle term in a demonstration. The Latin is solertia, which means to have a clear-sighted objectivity, even a dispassionate observance of situations. The one who is shrewd is agile and quick-witted, able to put the pieces together, both from memory and from learning, into the big picture.
When Looking for a Job:
– There are only certain things you can control:
– Be praying for your potential boss. Be praying for your current boss and your coworkers.
– Ask your Guardian Angel for guidance and assistance
– The way you dress
– Your online presence
– Research the employer
– Think of ways that would set you apart from other candidates
– Understand that the interview begins the moment you set foot on the premise
– Keep answers brief and concise
– Be prepared for questions: "Tell us something about yourself"
– Thank the interviewer for their time
Telling your boss you are leaving:
– Have a good transition plan 
– Be prepared for a counteroffer
– Be prepared to be walked out of the building right then
– Don't make the announcement on social media too early 
– Make sure to thank your boss and coworkers 
Don't let the norms of others dictate your values and behavior.
---
The Catholic Woodworker:
Check out The Catholic Woodworker's home altars. USE PROMO CODE "TCMS" for 10% off and so they know we sent you!
Volume Discounts (15% off 3, 20% off 5, 30% off 10)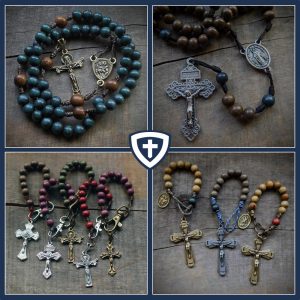 ---
TIME CODES: 
If this is your first time listening to The Catholic Man Show, we do 3 things almost every episode:1.) Open, review, and enjoy a man beverage – Minutes 1-12.2.) Highlight a man gear – Minutes 12-24.3.) Have a manly conversation – Minutes 24-48If you haven't listened to The Catholic Man Show before, check out our previous episodes 
here
. Subscribe to our 
 YouTube channel
 to watch past episodes.
---
Want to help The Catholic Man Show?
By giving us a rating on iTunes, it helps others find the show.
Want to say up with The Catholic Man Show? Sign up for our mailing list: Click Here
Looking for a prayer to pray with your wife? Check this blog out.
Are you getting our emails? Sign up for our newsletter where we give you all bacon content – never spam.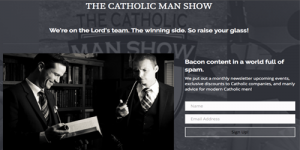 ---
If you enjoyed this episode of The Catholic Man Show and are looking to protect your family from the dangers of the internet, go to Covenant Eyes and use promo code "Catholicman" for a 30-day free trial of keeping your family safe.