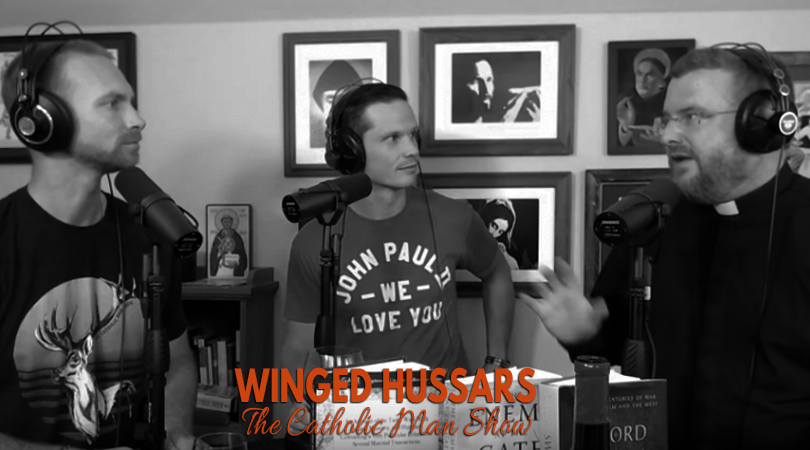 Father Sean Donovan joins us to talk about the relationship between the winged hussars, croissants, Islam, 9/11, and our Lady.
This episode on the winged hussars is sponsored by Covenant Eyes. Use promo code "catholicman" to get a 30-day free trial in protecting you and your family from the dangers of the internet.
About our drink:
Winged Hussar Red Wine by The Catholic Man Show.
An exquisite cabernet aged in Buffalo Trace Bourbon Barrels.
About the gear:
N/A
About our topic:
Who are the winged hussars? Why do they matter? What does 9/11/2011 have in connection to what happened hundreds of years ago? Where did the croissant come from? And how does Mary our Mother play a role in all this? We answer these questions and more in this week's episode.
About our guest:
Fr. Sean Donovan was ordained June 30th, 2012 in the Diocese of Tulsa and Eastern Oklahoma. He is currently pastor of Immaculate Conception Parish in Pawhuska, OK.
Resources mentioned on the show:
The Enemy at the Gate by Andrew Wheatcroft
An Account of the Turks Wars with Poland, Muscovy, and Hungary. Containing a Very Particular Relation of Several Material Transactions by De La Criox
Islam at the Gates: How Christendom Defeated the Ottoman Turks by Diane Moczar
Sword and Scimitar by Raymond Ibrahim
The Siege of Vienna by John Stoye
Drinking: N/A
Gear: N/A
Discussing the cycles of the Christian life
If this is your first time listening to The Catholic Man Show, we do 3 things almost every episode:
TIME CODES:
1.) Open, review, and enjoy a man beverage – Minutes 1-12.
2.) Highlight a man gear – Minutes 12-24.
3.) Have a manly conversation – Minutes 24-48.
If you haven't listened to The Catholic Man Show before, check out our previous episodes here.
Want to help The Catholic Man Show?
By giving us a rating on iTunes, it helps others find the show.
Want to say up with The Catholic Man Show? Sign up for our mailing list: Click Here
Looking for a prayer to pray with your wife? Check this blog out.
Are you getting our emails? Sign up for our (almost) monthly newsletter where we give you all bacon content – never spam.