Support Catholic Companies this Christmas
The Catholic Man Show 2020 Christmas Gift Ideas
Looking for Catholic Christmas Gifts? Wanting to support Catholic small businesses?
This year has seen its challenges. Not only has it been difficult for our family and friends but it has also been difficult for small business owners. That's why we have reached out to over 20 Catholic small business owners and asked them if we could highlight their business in this year's Catholic Man Show Christmas gift ideas in an effort to bring potential customers to their business. Full disclosure, we did not receive any money and we did not ask for any merchandise from these businesses. Our goal was to make people aware of the opportunities to support a Catholic business while purchasing a gift for a loved one. We hope you find some benefit in this list.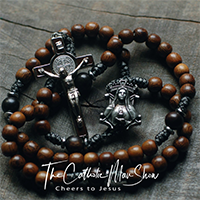 The Catholic Woodworker exists to equip men for battle in the modern world.  They do this by creating beautiful and masculine spiritual weapons, like their handmade wooden rosaries, that inspire a continuous conversion in the hearts of men. This year they have launched an official rosary of The Catholic Man Show (pictured). This handmade wooden rosary with the Immaculata design will be the perfect weapon for any man. Use promo code "TCMS" to receive 10% off all purchases from The Catholic Woodworker. Don't forget to check out their home altars and crucifixes as well.
(Note: The Catholic Woodworker has been a sponsor of TCMS in the past but did not pay for this post in any way)
---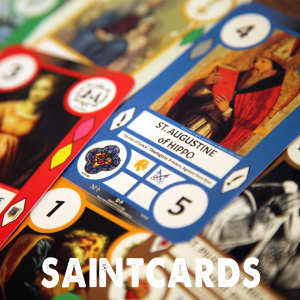 Looking for a fun game to play with the family? Wanting your kids to learn more about the faith while having fun on family game night? SaintCards is a tremendous gift to Catholic Families everywhere.
It can be tough to raise our children in the faith, and even harder if it always feels like work.  This game makes learning about the saints and our faith fun. The cards themselves pack in a HUGE amount of info about each featured Saint, amounting to an entire biography in symbols and colors.  I love that there is so much to be learned while playing any version of the game…The possibilities are really limitless and could be adapted to be used with preschoolers all the way through adults.  It's so nice to come across a faithful, well made, flexible game. Whether you are 5 years old or 105 years old, you will learn more about the history of the Catholic faith in a fun and engaging way with Saintcards.
---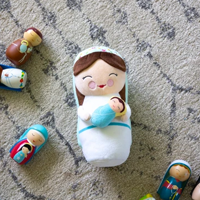 The very first Shining Light Dolls Plush has arrived and she is even cuter than we imagined! Handcrafted from the softest plush we could find, and standing at 10 inches tall this Mother Mary plush is sure to become your little one's favorite companion!
Gorgeous embroidery details on the crown and face make this piece even more of a treasure.  Mother Mary is dressed in classic blue and white, while cradling the baby Jesus. Mother Mary comes tagged with feast day and patronage information, ready for gifting.
---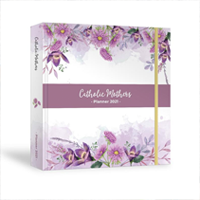 This beautifully designed and produced planner has been compiled by Catholic mothers for Catholic mothers. The ideal planner to help a busy Catholic family stay organized and keep the important thing at the center, their Faith. It is beautiful, practical, and faith-filled! Use promo code CATHOLICMANSHOW for a discount at checkout!
The Catholic Mothers Planner 2021 contains:
2021 monthly calendar pages
2021 weekly planner—each week is a double-page spread broken into morning, afternoon, and evening for easy planning and to-do list creation
Inspirational quotes from saints and Scripture for each week
Reminders for important saints' days, feasts, fasts, and seasons
Start and end dates for special prayers and novenas
Sunday reading references for the whole liturgical year
Prayer section with beautiful traditional prayers
Activities for the whole family to participate in that are connected to the liturgical year
Recipes for feasts, saints' days, and special times of year – including gluten free, vegan and vegetarian
Monthly reflections and spiritual challenges
Beautiful illustrations on every page
And much, much more!
---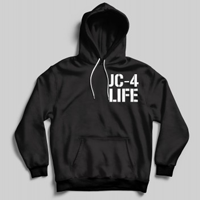 In His Image is a lifestyle brand reflecting the internal Christ impact externally through fashion and philanthropy. As we are changed and developed by the Holy Spirit, the brand of In His Image grows and expands. Several years ago, Matt Williams was at a Christian owned barbershop engaging in the conversations that arise in barbershops. Being that a lot of the patrons were also Christians, faith-based topics often came up. This particular time a discussion about the power of words and the tongue happened and Matt noticed one particular person was wearing a shirt by Affliction and what the words that person was wearing say. In the following weeks, Matt noticed more and more Christians wearing brands that spoke death over the wearer. Looking closely at these brands Matt noticed they were high-quality products and design. This inspired Matt to provide life-affirming quality apparel.
As Matt explored starting In His Image he noticed there was not a complete Christian apparel brand. There are several t-shirt brands but they rarely offer pants, jeans, jackets, coats and etc. In His Image is designed to be a lifestyle brand that grows from offering t-shirts to a full apparel offering.
Matt views In His Image as an avenue to give generously and partner with other Christians by them purchasing In His Image products.
---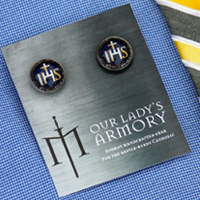 What a great way to evangelize at work! Our Lady's Armory provides high-quality Catholic cuff-links for every businessman. Each pair of cufflinks includes a high-quality photo image sealed under a glass dome and affixed to a stainless steel cufflink tray. Cufflink diameter is 20mm for a statement that is strong without being ostentatious. Get the set with a tie bar. They even have a Catholic Man Show cufflinks! Check them out!
---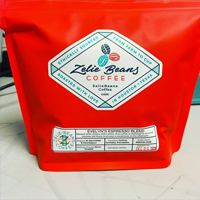 Zelie Beans Coffee takes its name from Zelie Martin. She and her husband, Louis, lived in a small village in France. Both Louis and Zelie worked, he as a watchmaker/repairman and she as a lacemaker. They had 9 children, 4 of which would die in infancy or childhood. The 5 that lived into adulthood were all girls and they all entered into religious life. Zelie's lace-making business did very well for her family that she was able to provide for the whole family. Though this did not mean her life was easy. She struggled with the deaths of her 4 children that died young. She also had trouble nursing her children. However, she persevered with faith and prayer. Zelie Beans Coffee is not just another coffee roaster. They strive to ensure that the growers and farm employees receive livable wages. With this in mind, Zelie Beans Coffee only sources beans from suppliers that provide fair and above fair prices for the unroasted beans. We also seek out those sources that continue to invest in women, their families, and their communities. Use promo code TCMS10 for 10% off at checkout!
---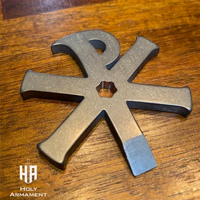 The Chi-Rho is one of the oldest Christograms, or symbols for Jesus Christ. The symbol is formed from the first two letters "Chi" and "Rho" of the Greek word that means "Christos", or "Christ".
The Chi-Rhopener is a devotional object / multi-tool with an integrated bottle opener, bit driver, and dual-purpose flathead screwdriver / prybar. The design is made from waterjet-cut 3/16″ thick 304 stainless steel with precision machined features. With a maximum dimension of 6cm (~2.36″), this piece is well-suited for everyday carry in the pocket.
---
Providential Co. is a little studio in Texas that seeks to share the beauty of the Gospel through thoughtfully designed items.
Hello! I'm Tricia, founder/creative, wife, mom and convert to the Catholic faith. I founded Providential Co. in 2016 with the hope of sharing the beauty of Christianity and providing customers like you with items to take along your journey, or to give to the people you care about knowing they were made with thought and care.
---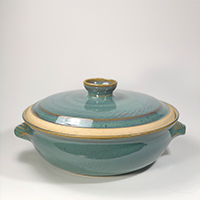 John creates one-of-a-kind, custom stoneware for the table, kitchen and home. From bud vases to bakeware and from coffee mugs to teapots, Edmond resident John Lang is ready to bring your vision to life.
If you are looking for high-quality craftsmanship in cups, vases, lidded jars, casseroles, bowls, pitchers, or soap dishes, look no further in John T. Lang Pottery.
---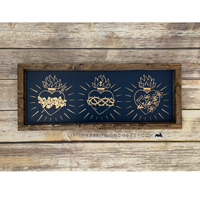 A great way to decorate your domestic church is by having holy images throughout the home. Little Rabbit Sign Co. is a great place to look for wooden handwritten signs. Justine is a one-mom shop specializing in personal handwritten signs, kitchen rosaries, farmhouse signs, novena counters, Catholic-themed decor and gifts. Be sure to follow her on Instagram for all of her latest projects.
---
On the hunt for unique, meaningful gifts? You are in the right place! Here's a tip: use the search function within my shop, or check out my shop sections to help narrow down the hunt :). The bright colors and contemporary design elements in my hand-drawn, hand-painted whimsical illustrations of prayers and scripture are meant to draw the eye and serve as a gentle call to prayer and reflection.
High quality, professionally run prints, notecards, and prayer cards with my original artwork make great gifts, stocking stuffers or daily reminders for your own home. Enjoy your time here – thanks for coming by!
---
When we went to China to adopt our daughter, we fell in love with her and with the fragrance of tea. Today, the smell of Chinese tea still transports us to that time and place – making the wonder of that journey as real today as it was then,
Viaggi Fragrances was born out of that experience.
Our mission is to capture the essence of the breath-taking wonders of the worlds through the signature scents of each location.
All the ingredients of each candle are true to the area that inspired it. Our hope is that our candles will bring the magic of the wonders of the world right into your home, and maybe even inspire you to set off on an adventure of your own.
---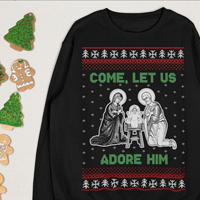 But not just Christmas sweaters. They have a variety of Catholic items, Apparel, Stickers, and Zines. Make sure to follow them on Instagram for all their latest products.
---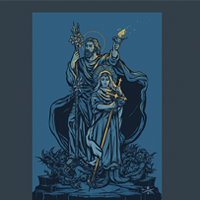 Baritus Catholic has become our new favorite Catholic illustrator.
The two meanings of this Latin word come together graphically in the BARITUS logo through the representation of the angel blowing a trumpet while carrying a sword. This image reflects scenes from Scripture such as in the Old Testament where the Israelites rally around the sound of the trumpet where God fights for them, as well as in the New Testament where angels usher in the final judgment with the blast from a trumpet.
​In the BARITUS icon, the trumpet and the sword are bound together with rope symbolizing the ever-present need to both proclaim the faith and defend the faith in evangelization.
Chris Lewis is the sole illustrator behind BARITUS Catholic Illustration. A convert to the Catholic faith with a professional background in graphic design and a love for illustration, this project came to fruition through a parallel journey in discovering the Truth of Christianity through Catholicism and a return to drawing after many years of setting it aside. The two paths converged after a series of spiritual and intellectual conversions in 2018, and the idea of beginning a project focused on sharing the Catholic faith through art was born. BARITUS is an artistic project dedicated to preserving the legacy of our rich Catholic artistic traditions, but in a way that resonates today.
---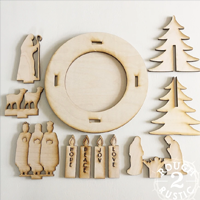 Journey through Advent AND Christmas in a hands-on way with this Advent and Nativity wreath. Each piece is removable and interchangeable and can be painted, stained, colored, or even covered in craft paper. Please note it comes UNFINISHED and is made of quarter inch Birch.
Included in this listing is one 10 inch base (pieces already glued together), one 5.75 inch two-piece interlocking tree, four 4 inch Advent candles (word cut out of each candle), and 4 Nativity pieces (Holy Family, Wise Men, Shepherd, and sheep).
There is a separate listing for the Advent wreath (no Nativity pieces included). This listing is for the FULL Advent and Nativity wreath set.
---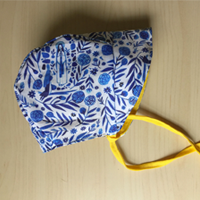 Dress your darling one in a bonnet inspired by Our Lady's apparition to St. Bernadette in Lourdes!
This bonnet is made from organic cotton and lined with a sunny yellow organic linen.
As each item is cut individually design placement on the bonnet varies with each order.
---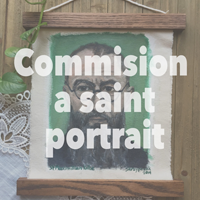 Painted on unstretched canvas with a solid color background, choose any Saint you love for me to paint! Comes with a hardwood frame – the standard is the walnut finish, but I can get a variety of others – just ask!
A print is a shadow and imitation of the original. Nothing can compare or capture the look of real brushstrokes. Your eye perceives the light bouncing off in an entirely unique way when the paint is in front of you.
It's why thousands flock to museums even when you can see photos of paintings online or even purchase copies.
When you love it, it has to be the original. Nothing else can compare.
---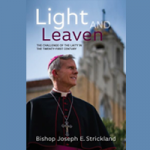 Bishop Joseph Strickland is one of the Church's boldest and most courageous leaders. His outspoken support of orthodox faith and morals, the sanctity of unborn life, and reforming Catholic institutions have made him a hero even to Catholics outside his little East Texas diocese.
In Light and Leaven he offers a forthright perspective on the state of the Church and the world today and calls on the lay faithful to meet its challenges unflinchingly. We must not shrink from the culture, he says, but be a light to it; we must not retreat from the world but leaven it with grace and truth.
---
This Sacred Heart wall medallion is an iconic symbol representing the transformative power of divine love for all of humanity.  The heart opens to reveal a space to place a written prayer or notes of gratitude. It also has a hook on the back to hang on the wall or on an altar.  It can also be used as a Christmas ornament, baptismal or confirmation gift.
If you're familiar with the story in the book of Acts when St. Peter visits the town of Joppa, he is led to the upper room where many widows are weeping at the death of Tabitha. St. Peter prays and says "Tabitha, arise!" and she opened her eyes. This verse has been significant to me my whole life, not just because my name is Tabitha, but because it made the word of God personal to me. My name is in there. And He knows it.
After more study I learned that "Joppa" means "beautiful". When deciding on a name for our shop, it became clear that "House of Joppa" would reflect all that we'd hope to accomplish in our mission. We exist to offer modern Catholic Home Decor, jewelry and gifts to help others "live out the beauty" of the beloved Catholic faith.
---
The Catholic Card Game is the party game for Catholics. Come and encounter the game that is just as funny and faithful as you.
It's easy to play, relatable, and hilarious.
---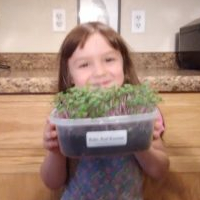 Heirloom seeds can help you, and those around you ensure your own food supply, give you tips for beginner gardeners, step by step guide to growing microgreens, and more. St. Clare Heirloom Seeds is a family owned and operated online business. What began as a hobby has developed into a mission. St. Clare's sells non-hybrid, non-GMO, untreated, heirloom and open-pollinated garden seeds, that you can save and regrow, trusting them to be true-to-type. Enabling you to provide a safe and healthy food source for your family right from your own backyard!
---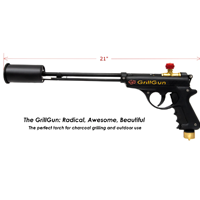 Light your charcoal fast, when you want it lit. You will be able to load charcoal into your grill and spread it out like you want, light it, heat-up the grill, and start cooking in just minutes! If you are looking for a Christmas present for a grill master, this is it!
---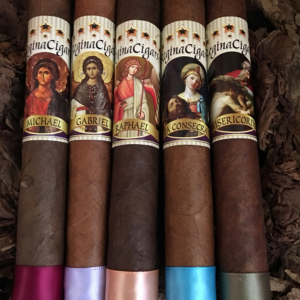 Buy cigars for your serious cigar smoker or for just a special occasion.
Regina Cigars is another win/win when buying their high-quality cigars. Check out their mission below:
"Thanks for your interest in our unique line of handmade cigars. Our goal is to bring you finely crafted cigars that are lovingly hand-rolled using exquisite blends from around the world. Part of our mission is also to help raise awareness and financial support for orphans in cigar producing countries. Since these countries produce our handcrafted cigars we thought it would be fitting to give back to the least fortunate in those communities. A portion of the proceeds from the sale of Regina Cigars™ will go to "Farm of the Child" which is a faith-based orphanage in Honduras. We have already been able to donate almost $11,000.00 in proceeds to help them & other faith-based initiatives. We currently support the annual financial & educational needs of 6 orphans at the mission. With your continued purchases, we hope to be able to greatly increase that amount over the coming months." BONUS: Use TCMS10 as a promo code to get 10% off purchases.
---
Genuine Leather Strap water-resistant Quartz watch from our friend, Sam Guzman of The Catholic Gentleman.
---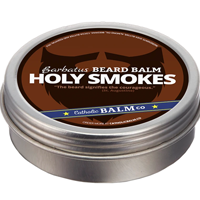 The product that all bearded Catholic Men didn't even know they were waiting for has arrived! Hand made in small batches by a Catholic beard enthusiast Tony Vasinda. Barbatus Beard Balm is an all natural blend of almond oil, shea butter, beeswax, cocoa butter and essential oils (in our scented ones).
Holy Smokes: Is our newest formula and combines the aromas of Frankincense, Myrrh, and a touch of wood smoke to evoke the rich smells of incense.
---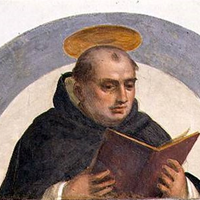 The English edition of Nova et Vetera is published quarterly and provides an international forum for theological and philosophical studies from a Thomistic perspective.
Founded in 1926 by future Cardinal Charles Journet in association with Jacques Maritain, Nova et Vetera is published in related, distinct French and English editions. The English edition of Nova et Vetera welcomes articles and book reviews in theology, philosophy, and biblical studies that address central contemporary debates and discussions. We seek to be "at the heart of the Church," faithful to the Magisterium and the teachings of the Second Vatican Council, and devoted to the work of true dialogue, both ecumenically and across intellectual disciplines.
---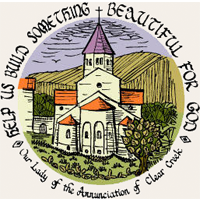 Does your loved one already have everything they want? Donate to Clear Creek Abbey in their name. Clear Creek Abbey strives to live by the labor of their own hands, but could not hope to build an abbey to last a thousand years with your help. After nearly seventeen years of existence at Clear Creek, we are happy, by the grace of God, to have completed two large buildings, i.e. a residence hall and a gatehouse, plus a sizable portion of our abbatial church. What a joy it is to be able to sing in this truly monastic church, even if the walls have only risen, so far, to half their destined height! We are currently beginning the construction of the chevet, or eastern portion of the church containing the sanctuary. We will also be raising the transepts (arms of the cross) to their full height. Please help us continue this arduous, but important work for the glory of God.
---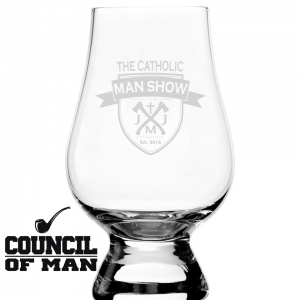 Odds are your son, boyfriend, husband, and/or nephew is striving to live a virtuous life but is in need of other Catholic men to continue pushing him to pursue the art of living the virtuous life. That is why the CoM exists. We have men from all over the world (literally!) who have joined the CoM and are in the exact same boat.
By joining the CoM, members receive a free TCMS glencairn glass, access to 4+ years of exclusive content, discounts on Catholic swag, an exclusive Facebook group with access to ask Adam and Dave any question, and more. This group is what supports The Catholic Man Show to continue growing and doing more things to reach out to other Catholic men. 100% of your support goes back into the show. Win/Win!
---