Deep Adventure: The Way of Heroic Virtue – TCMS Book Review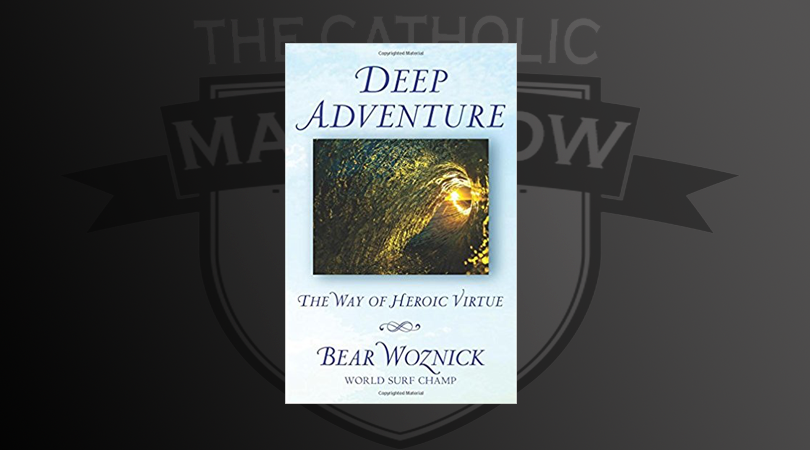 "Deep Adventure: The Way of Heroic Virtue", by Bear Woznick
Sometimes when I find time to read, it is late at night, just before bed, when both my brain and body are tired. Lucky for me Bear Woznick's book Deep Adventure: The Way of Heroic Virtue grabbed my attention from the start and took me on a faith-strengthening journey. Bear uses personal stories that are full of action and masculine sentiment to explain the four cardinal virtues of justice, prudence, temperance, and fortitude, as well as the theological virtues of faith, hope, and love. I found this book challenging me to go deeper in my relationship with God and pushing myself further in living my Catholic faith.
I think of this book as a spiritual multipurpose tool that can be read alone to prompt private reflection or can be read among friends or men's groups to stimulate discussion and accountability. (For more information on the importance of men getting together, listen to The Catholic Man Show episode 11 on Brotherhood). This book is not only a great, adrenaline producing read, but it is also a book to keep on your nightstand or bookshelf for review and reference. The chapters are relatively short and allow you time to pause and think before moving on to the next section. In addition, the ongoing story of a rescue which plays out in the book keeps you focused and attentive, even if you are a late night reader.
Bear's book not only leaves you pondering the virtues, but also leaves you dreaming of sandy beaches, surfboards, and giant waves. It calls to you in a deep, manly way to see the adventure in our everyday lives and to embrace the love and greatness of God in new ways. Certainly, I am not an expert on all the virtues, but since reading this book I am able to see the virtues at work in my daily life.
Buy Deep Adventure: The Way of Heroic Virtue here
Find out what Bear is doing here
---
By Kent Keithly
Husband, fortunate father of four, and Catholic convert of 20 years.