Ephesians 5 and the Sacrament of Marriage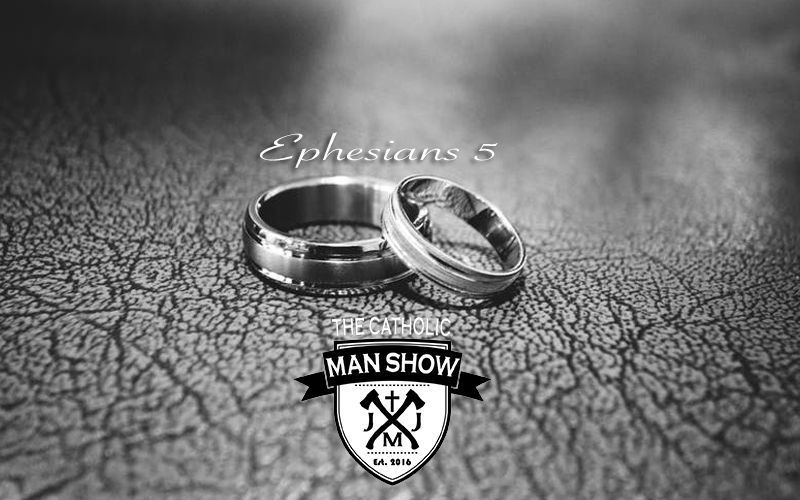 Ephesians 5: The Sacrament of Matrimony
You do not need to be told that there is enough just outside your door that seeks to bring all true love to ruin. So why on earth would you bring about it into your home marriage? Hear me men, there is a sacred and mysterious bond that you share with your wife that goes beyond the simple, "I Do's" you nervously uttered on your wedding day. In Ephesians chapter 5 we are exhorted by St. Paul to rid ourselves of the filth that would ruin our state and sight before our wives.
But fornication, and all uncleanness, or covetousness, let it not so much as be named among you, as becometh saints: Or obscenity, or foolish talking, or scurrility, which is to no purpose; but rather giving of thanks. For know you this and understand, that no fornicator, or unclean, or covetous person (which is a serving of idols), hath inheritance in the kingdom of Christ and of God.
Thanks be to God that such a man wrote these things! For it seems like in every age, the predominant lie among men is to practice the very things St. Paul exhorts us to avoid. Is it not so that we succumb to peer pressure in some ways with fellow men in an effort to feel accepted or looked up to in some small way by acting like mindless brutes. 
Or is it worse than this, where we actually enjoy crude humor and lustful thoughts, words, and deeds? Have we succumbed to mindlessness in one form or another only to be left there as an offense even to ourselves? Or have we accompanied others who do such things even though you have kept your actions clean? Did you not know that accompanying these makes you a partaker of their sin? Part yourself from such men and pray for their souls as well as your own. Sin is slavery, without a doubt! Amend your ways by invoking on the Intercession of Our Lady, the Mediatrix of all Graces, that you may be given the strength to turn from such a lifestyle. For no true woman wants this inglorious image of a man.
No brothers, we are not meant to be brutes for power or our concupiscence but meant to imitate Christ in relation to His Church. St. Paul says as much as he reveals the sacred mystery of marriage:
Being subject one to another, in the fear of Christ. Let women be subject to their husbands, as to the Lord: Because the husband is the head of the wife, as Christ is the head of the church. He is the saviour of his body. Therefore as the church is subject to Christ, so also let the wives be to their husbands in all things. Husbands, love your wives, as Christ also loved the church, and delivered himself up for it:
 You are called for a greater purpose, you husbands. You are called to witness to your wife as Christ is to the Church. Make no mistake, this is your vocation if you be married. In edifying your wife, do not misunderstand St. Paul in his instruction for "wives to be subject to their husbands". For we in our day and age are riddled with pride and cannot understand the words of such humility. This directive from St. Paul is meant for the wife to fully devote herself to her husband and his leadership of the family. This principle is no different than what Our Lady reflected toward St. Joseph. Did not the Angel of the Lord visit St. Joseph, not Mary, to flee to Egypt at the time of Christ's birth? Why do you think? Because he was the husband over Mary and the Christ Child. His vocation was a special one to protect all aspects of his wife, Mary and the well being of Jesus. So render to you wife what she deserves: a man that is willing to lay down his life for her as Christ did for His Church.
Adam and David sat down and spoke with seminarian Joe Heschmeyer to talk about this very topic! Joe is studying to be a priest in Rome. Check out his website – it's a great resource!