Lead us not into temptation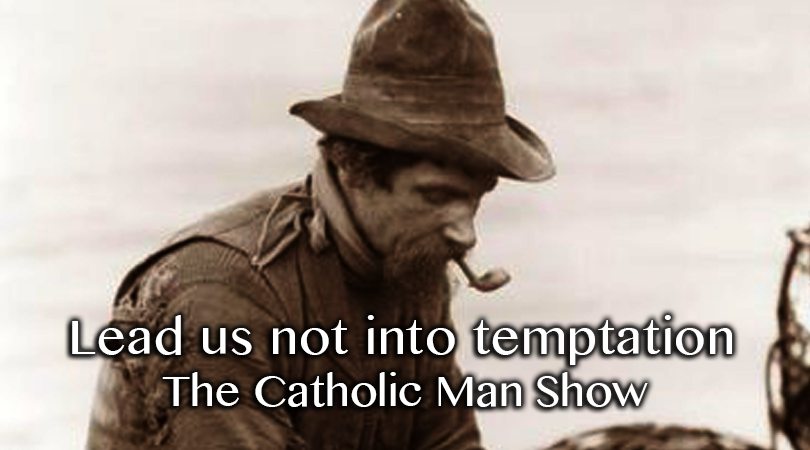 When we pray the most divine prayer, that is, the Our Father, we must take a close look at each word. For Our Lord Jesus Christ actually composed this prayer! Think of that, of all the things you have heard or read that Jesus said and did… Jesus, the Son of God, the Word made Flesh… composed one prayer that we know of – The Our Father. It blows me away just to think that God, whom no one has ever seen until Jesus, taught us to pray thusly:
Our Father, who art in Heaven, Hallowed by thy name
Thy Kingdom come, Thy Will be done
On earth as it is in Heaven
Give us this day, our daily bread
And Forgive us our trespasses
As we forgive those who trespass against us
And Lead us Not into Temptation
But Deliver us From Evil. Amen
Most magnificent! Absolutely perfect in each line! This prayer in of itself encompasses all that which we need to contemplate upon so our minds, hearts, and souls may be elevated to God in perfect adoration! There is so much to say about each line in this prayer but today – let us look at the line that which Jesus wishes to grant us with the grace of Foresight.
"And Lead Us Not Into Temptation"
Jesus told us that if we ask for something in His name, we shall have it. – John 14:13-14. But did that mean just anything? Like a million dollars or fame? No, not something so base and earthly did Jesus tell us He may gift us with good things if we ask. Jesus wants to give us that which will bring us to perfection as Jesus said, "Be Perfect, for your Father in Heaven is Perfect." – Matthew 5:48. So what is this grace of Foresight? Well, just as this line in the Our Father Prayer suggests, we are to pray to receive graces to recognize our surroundings and act accordingly. What soldier do you know that has come out of training does not recognize his surroundings in battle? Do you think he walks aloof and clumsily through a battlefield in the heat of gunfire? Of course not! He is likely employing every once of his training so as to not only stay alive but to take out the aggressors that seek to ruin him and his mission.
In the same way, we ask Jesus to grant us the wisdom and graces necessary to understand ourselves better and in some ways foresee the near-occasions of sin. What are 'near-occasions' of sin, you ask? Let's say you have a problem with pornography. If you are wanting to free yourself from this demonic addiction, do you think it is a good idea to surf the web by yourself in a private room? Probably not! In fact, knowingly putting yourself in an occasion where you are pretty sure you will be tempted is in of itself a sin! Take time out to clearly think about what you are doing if such a temptation should arise. Not only that, but pray the prayer that Jesus gave us and speak it aloud and slowly. Listen to each word as those words were graciously composed to assist in edifying and healing you. If you find that you are continuously tempted by the same thing no matter what you do then first of all do not despair! Recall St. Paul asking Jesus to remove a 'thorn in the flesh' that he struggled with but what did Jesus say, "My Grace is Sufficient for You" – 2 Cor. 12:9. Did St. Paul tell us what that 'thorn'  was? No, but that isn't the point – the point here is that even St. Paul was tempted and begged God to remove it from him. But instead, Jesus made that Paul's cross for the sake of holiness and humility. So be a man, pick up your cross and pray to be lead by graces to places of lesser temptation. Because even small temptations can be worthy – if struggled against properly- for the cause of sainthood.