Book Review: The Irony of Modern Catholic History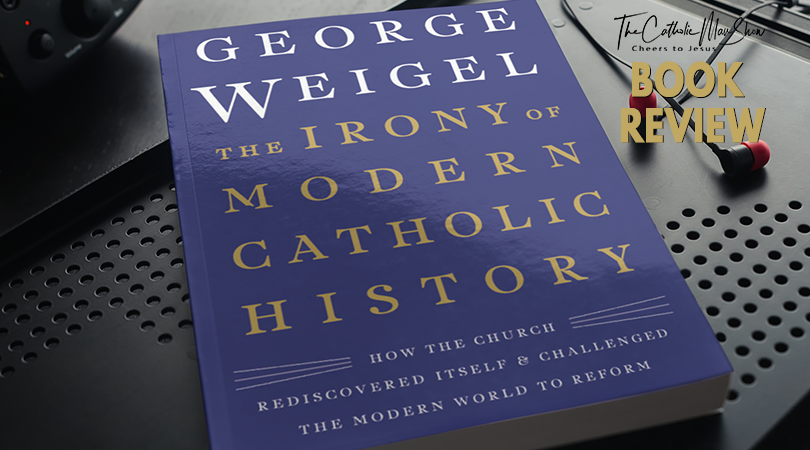 "The Irony of Modern Catholic History"
by George Weigel
I love George Weigel. From my seminary days when I read Witness to Hope: The Biography of Pope John Paul II to subsequent years reading The Cube and the Cathedral, Letters to a Young Catholic, and many others, Weigel always gets me thinking. His passion for evangelical Catholicism (another book topic) and the life of St. John Paul II is inspiring on many levels. I often think of his portrayal of John Paul II in my life as a pastor. I learned from John Paul II, via Weigel, that pastoral initiatives take time, prayer, and the effort of many to bring about fruit in the life of my people. 
In The Irony of Modern Catholic History: How the Church Rediscovered Itself & Challenged the Modern World to Reform, Weigel gives a history lesson in five parts. I felt like I have a good grasp of The Second Vatican Council and the years following but this book opened up for me the 19th and early 20th century and linked the pontificates of Leo XIII and those that followed to the reforms of Vatican II. It made clear that it is impossible to truly understand what is happening today without a firm knowledge of the history of these eras.
Weigel divides recent Church history into five "acts" noting how each builds on the other towards a modern Catholic history that, as the subtitle makes clear, challenges the modern world to reform especially in the area of human rights. These five "acts" show the Church first against modernism, then exploring modernism for it's good, then critiquing modernism for its bad qualities, then trying to convert the modern project to see with eyes of faith. 
Any student of Church history would find the book fascinating especially in exploring the loss of the Papal States and in learning more about the personal lives, politics, and theologies of popes like Leo XIII, Pius IX, Pius X, and Pius XII. Weigel brings it all together to include the link between the pontificates of John Paul II and Benedict XVI and makes a strong critique of the papacy of Pope Francis in how it seems to be "stalling" the Vatican II project in a number of ways.
Especially with recent conservative critiques of Vatican II, The Irony of Modern Catholic History is required reading for anyone not aware of the great history of the Catholic Church and Her struggles to deal with, fight, embrace, and reform modernity in all it's good and bad forms. 
---
Written by: Fr. Brian O'Brien, Pastor of St. Francis Xavier Catholic Church in Stillwater, OK.
Follow Fr. Brian O'Brien on Twitter