Benedictine Monks at Clear Creek Monastery – Episode 132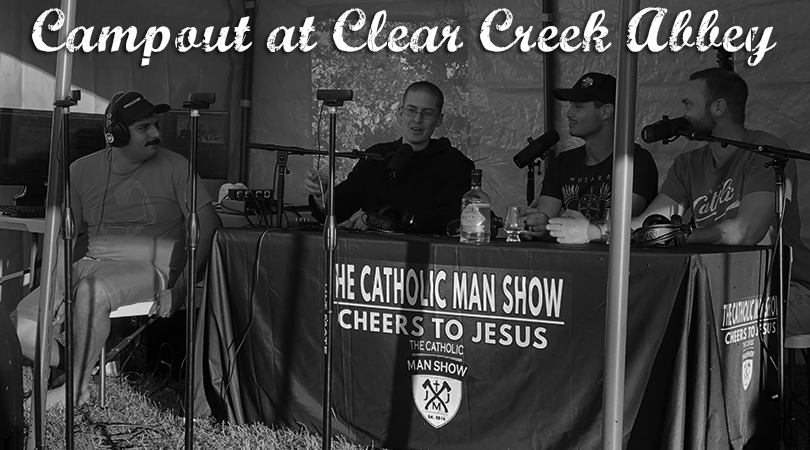 The Catholic Man Show Campout at Clear Creek Monastery
Benedictine Monk, Fr. Nesbit, joins the show to talk about silence, the habit, and the life of a contemplative monk
Recorded Live – Sponsored by Broken Arrow Brewing Company
Our Lady of Clear Creek Abbey is a Benedictine community belonging to the Solesmes Congregation. It was founded in 1999 from the Abbey of Our Lady of Fontgombault in France and is located in the diocese of Tulsa, Oklahoma. Having been erected as a simple priory in 2000, Clear Creek became an abbey in 2010. The community currently counts 50 monks.
Like the other monasteries of the Solesmes Congregation, Our Lady of Clear Creek Abbey, having devoted itself from the outset wholly to the service of God in the hidden life, is to be counted among the institutes entirely ordered towards contemplation. By virtue of their vocation, the monks devote themselves to God alone in silence and in solitude, in constant prayer, and willing penance.
If this is your first time listening to The Catholic Man Show, we do 3 things every episode:
1.) Open, review, and enjoy a man beverage – Minutes 1-12.
2.) Highlight a man gear – Minutes 12-24.
3.) Have a manly conversation – Minutes 24-48.
MAN DRINK: The Quiet Man
MAN GEAR: The Habit
MAN TOPIC: The Vocation of a Monk
Did you miss our episode with Brett McKay from The Art of Manliness?
If you haven't listened to The Catholic Man Show before, check out our previous episodes here.
Want to help The Catholic Man Show?
Want to help get the word out? Please rate The Catholic Man Show on iTunes.
Want discounts to Catholic companies?
Hats, rosaries, candles, cigars, beef jerky, and Catholic Comic book. Great gifts for all Catholic families. Check it out here
---
Are you a man who cares about our culture and wants to grow in virtue? Click here