Fitness and Virtue – A Master Class with Pat Flynn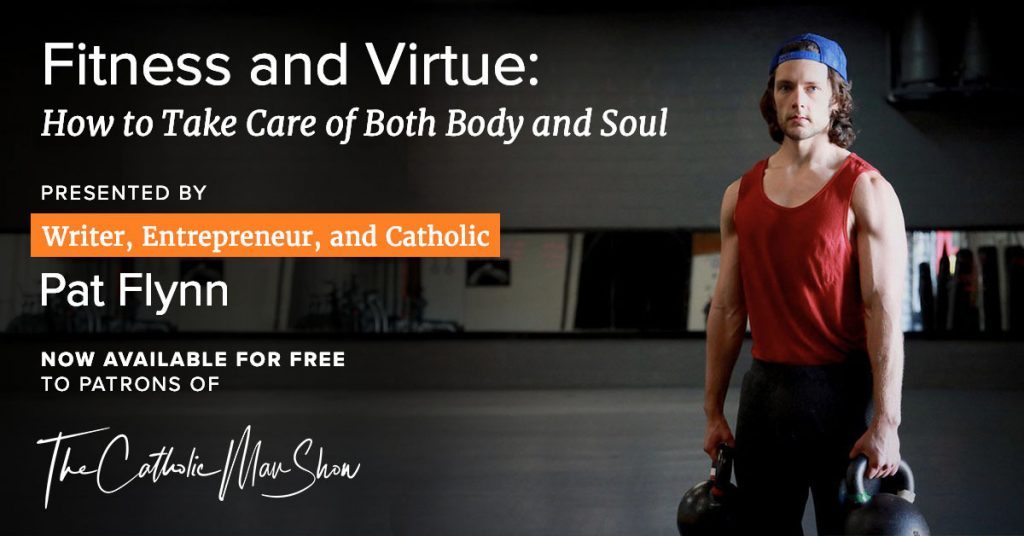 Pat Flynn gives an exclusive course on Fitness and Virtue to patrons of The Catholic Man Show
BUT you can listen to the first one FREE right now (however, we are only making this available for free for 2 weeks so don't wait!) – Ready for lifetime access to this course, the course we did with Karlo Broussard, over 40 interviews, and sweet thank you gifts? Sign up here!
We're hosting another patron-exclusive class with our friend Pat Flynn! A writer, entrepreneur, and "re-converted" Catholic, Pat focuses his efforts on helping others find happiness and wholeness through fitness, philosophy, and faith.
Now he's teaming up with The Catholic Man Show to talk about how important fitness is for us as Catholics. God didn't just create us as spirits and then shackle us with bodies. As Catholics, we believe that the body and soul are intimately woven together, so it's important that we work on both.
There are also pitfalls in the fitness world that are important to avoid—vanity, to name a big one. Throughout this course, Pat will discuss the role physical fitness plays in our lives and offer key insights on how to maintain a healthy, balanced lifestyle.
And, no, we didn't bring Pat in to preach to a choir of Catholic gym-rats. This program is for all our listeners, regardless of your fitness level. If you're celebrating the extra steps when you walk down the driveway to take out the trash… you'll be inspired by Pat's course. If you're looking to turn that 6-pack into an 8-pack, this course can help you summit that mountain too. We encourage all of our patrons to take us up on this exclusive content!
Interested? Click below to watch the first episode of this series! This video and podcast will only be available for free until June 16th, 2021. Make sure to sign up as a patron for lifetime access to all 12 videos!
---
Catholic Man Show's recent episode with Pat Flynn: