Spiritual Warfare and the Discernment of Spirits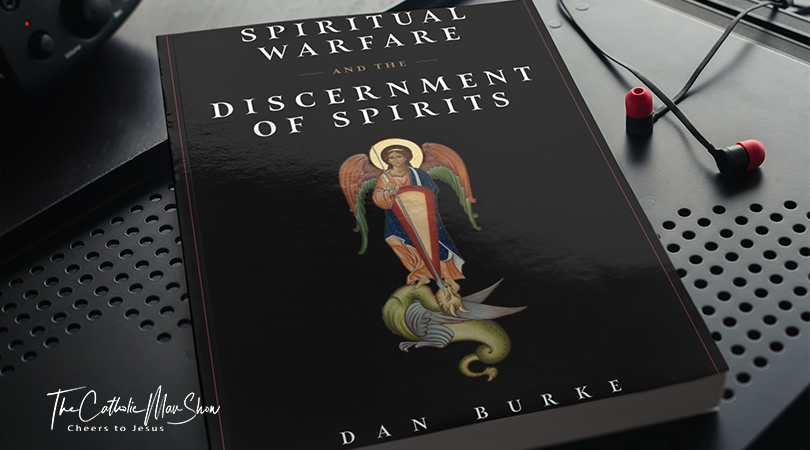 Book Review: Spiritual Warfare and the Discernment of Spirits
By: Dan Burke
            When I was in high school, I was a self-professed fast-food connoisseur. Our school had an open campus at lunch so we had roughly 35 minutes to leave campus, eat lunch, and return back to class on time. As a result, one quickly learned the menus of McDonald's, Burger King, Taco Tico, etc. very well and you always had your eye out for something new to try. Around that time, McDonald's came out with a new burger called the Mc-DLT. It was advertised to be the perfect balance of hot and cold, that is, it was served in a dual-chamber container to "keep the hot side hot, and the cold side cold." The purpose of the Mc-DLT was to create the perfect temperature balance when eating your meal so you could enjoy the hamburger to the fullest.
So, what does all this talk about food have to do with a book about spiritual warfare? To be honest, I enjoy talking about and consuming food so it is frequently on my mind. In my opinion, this book by Dan Burke is the perfect balance of knowledge and wisdom which allows the reader to gain significant traction on the battlefield of spiritual warfare. The book is not only easy to read, but it is also effective in explaining topics like spiritual consolation and desolation while keeping the reader focused on the "truths of God" instead of the "lies of the devil." To quote from movie critics back in my day, Siskel and Ebert, I give this book "two thumbs up!"
On the official Catholic Man Show Technical Read Scale**, I rate this book at a 3 because the author unpacks the heavy and serious topic of fighting in the spiritual world in a practical and understandable manner. He provides meaningful questions for reflection at the end of each chapter that helps to not only summarize the topic, but also allow any reader to grow in their self-awareness and faith. The advice and subject matter presented in this literary work is poignant and produces hope, while encouraging the reader to focus on pure and true things, instead of images or information which are tempting or potentially sin producing.
Dan Burke outlines fourteen "rules for discernment of spirits" in this book and these are based on rules developed by St. Ignatius. Each rule is covered in a span of about 4-5 pages which leaves plenty of time for reflection on each topic and allows the book to be read fairly quickly. I think I finished this book in about 2 weeks and was reading at a very leisurely pace. I found the chapter on desolation to be extremely timely and helpful to me especially when the author stated, "A common tactic of the enemy with respect to desolation is to try to draw us out of the present moment, where we are and where God is, into the future or the past in order to disable or discourage us in our holy or healthy aspirations." I know staying in the present moment is a struggle for me, but now I see it in a new light.
I think it would be nearly impossible to read this book without learning something new about yourself, and further, without growing in holiness. The topic of humility came up many times in this work which makes me wonder if David Niles was a contributing writer or perhaps a living example for the author. I know Adam and Dave have talked on the show before that being humble is imperative because it limits the ability of the devil to use something against you in spiritual warfare. Dan Burke takes that a little deeper stating, "Humility and abandonment to the will of God in every moment is one of the most powerful weapons at our disposal in our spiritual battles…the reason for this is if we are humble, and we are open to whatever the Lord brings, we are thereby attached to very little and the enemy has little room to tempt us."
If you search through the archives of The Catholic Man Show you will find at least a few recordings focused on brotherhood and or the importance of having a faith-based men's group. Specific episodes that have brotherhood in their title are numbers 11, 62, and 94, but I know there are others that also discuss the topic. So why is having a band of fellow spiritual warriors important? Well, as the author explains, "secrecy and isolation are among the most powerful tools of the enemy" and demons work hard to isolate people, tempt them, and lead them down the wrong road and that road is away from their loving Father. So truly, it is imperative to be part of a religious men's group or to have holy friendships with other men. You never know, those friendships could possibly start a Catholic radio station, podcast, or both!
In closing, I appreciate that Dan Burke was able to make the topic of spiritual warfare practical and applicable to my daily life. He is generous and attentive to the reader and provides a beautiful reflection in the book titled Dayeinu, which is worth reading slowly with a grateful heart. Toward the end of the book, he leaves suggestions for further spiritual development which include websites titled: SpiritualDirection.com, Avila-Institute.org, and ApostoliViae.org, as well as, many books. He also recommends reading the book a second time and asking God what he wants to reveal to you. Remember gentlemen we are never alone and it is never too late to sharpen your spiritual warfare weapons through the grace of God!
Buy the book: Spiritual Warfare and the Discernment of Spirits by Dan Burke
---
By: Kent Keithly, husband and father
***Regarding The Catholic Man Show technical read scale: A 3 out of 10 is a leisurely read that could be read in a couple of weeks, an 8 out of 10 is a more technical read which requires more time and often requires looking up definitions of words to clearly understand the author, and finally a 10/10 is an extremely technical read that requires a significant amount of time to complete the book, as well as, extra time to look up further explanations of the topic, definitions, and likely requires that some pages be read more than once to grasp the content.
---
P.S. You might find the following Catholic Man Show episodes helpful when working on your spiritual growth: #156 The Spiritual Exercises of St. Ignatius and # 205 Spiritual Warfare.