The Catholic Man Show 2022 Christmas Gift Guide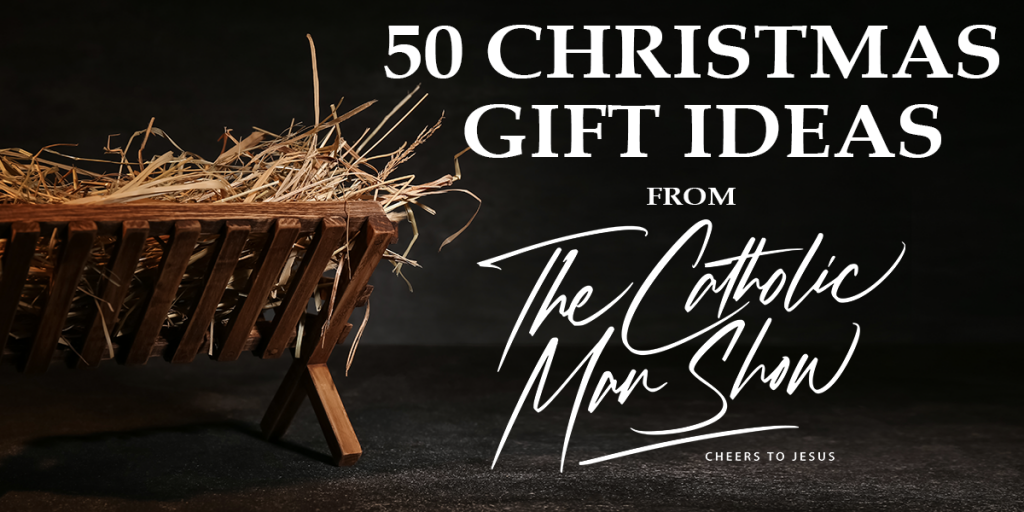 Need a Christmas Gift Guide? We have a few suggestions
Getting Christmas gifts can add unnecessary stress to a wonderful time of year. We have put together a Christmas Gift Guide to help not only check Christmas presents off the list, but will also support some great Catholic companies (most of these companies are Catholic, but not all of them). We have broken down the gifts into the following categories:
Apparel
Gears and Gadgets
Consumables
Books
Subscriptions
Note: Not all these businesses are Catholic businesses. We tried to include as many as we could. If you are a small Catholic business, reach out to us, and we will try to add you to the list. We do not receive any financial kickbacks from these companies.
Apparel
A great way to live liturgically! Whether your patron saint is St. Joseph, St. Jude, or St. Thomas Aquinas, Sock Religious has your feet covered. We also are giving away a free pair of socks to one of our patrons. See if they have your favorite saint here. They also have kids socks, liturgical socks, and no show socks.
For every Catholic man who likes to BBQ when it's cold outside. Purchase here
A legit shirt of St. Maximilian Kolbe shirt with his 2 crowns. "That night I asked the Mother of God what was to become of me. Then she came to me holding two crowns, one white, the other red. She asked me if I was willing to accept either of these crowns. The white one meant that I should persevere in purity, and the red that I should become a martyr. I said that I would accept them both." Check them out.
"Go to Thomas" Thomistic Institute Teeshirt
"Ite ad Thomam" printed on the front; Thomistic Institute logo printed on the upper back. Check it out here.
The Catholic Man Show Leather Patch Hat or Beenie
The Catholic Man Show Leather Patch Hats available in camo, navy, green, or black.
The Catholic Man Show Leather Patch Beenies are available here.
Bringing much-needed innovation to this beloved sacramental, our scapulars are made with super-strong American paracord and super-soft Australian merino wool. Plus, the patent-pending design includes a pocket for your favorite sacred medal—so it won't wear your cord out! In fact, if it wears out from normal use, we'll replace it for free. Long story short: this is the most durable, comfortable scapular ever made. We sell scapulars because we think everyone should have one—but we know not everybody can afford one. That's why for every individual scapular purchased on our website, we give one away to an elderly person in need. We also set aside part of every purchase to give scapulars away to religious and young people.
Scapulars.com® is proud to be family-owned. We're happy to provide discounts on orders of multiple scapulars so you can vest all of your loved ones in Our Lady's care! Check the pricing chart for details.
Don Juan of Austria "There's No Paradise for Cowards" Hoodie and T-shirt
This is a limited release from The Catholic Man Show. It will be made available first to our patrons, so if you want to make sure to get one, sign up for as little as $4/mo.
Here are the pictures:
Gears and Gadgets
Beautiful statue of St. Joseph with the Child Jesus for the home or the office. Heirloom quality with incredible detail. Order one today.
Built for function and durability this personalized Survival Kit Gift Set looks great with the bold black finish! Keep this custom engraved Zippo Lighter and Rescue Knife on hand and you are ready for anything! Check them out here.
"The Elk" themed Bible cover features a tough & rugged look with natural sinew and a brown button. This cover is extremely durable, not unlike the North American Elk itself, and will protect your Bible for years to come. As you grow in relationship with Our Lord through daily reading of His Word, this cover will naturally patina and take on the unique characteristics of you and your prayer life. Learn more here.
This wallet is one of our favorites! In Greek, the name Esteban means 'Crown of Victory.' How awesome is that!!! This wallet also carries the same name as Esteban Rojo from the classic movie, 'A Fist Full of Dollars.' And although we believe this would have been the type of wallet he might have carried when robbing banks, we can't condone the actions of this outlaw, but he did have good taste. Either way, carrying this wallet will indicate that you have an eye for the finer things in life. It is hand stitched and dyed in a unique way so as to make this last for many years!
Made from the finest vegetable tanned leather! Each wallet is handmade and unique. Because of this, your wallet may look a bit different from the photos. Over time the leather will become darker and more flexible, like a baseball mitt. Order one here.
All in one kit: Smoke Board's old-fashioned smoker kit contains all the essential products for making a perfect smoked cocktail. This cocktail smoker kit includes a torch, a mixing glass, a smoke board, three different wooden chip jars, and a bag to transport these items effortlessly. If you like hosting and making cocktails, this is a can't miss present. Buy one here.
If you burn a lot of firewood, this is a great item. It also is very good if you have younger boys who want to help splitting firewood but you don't want them swinging a sharp axe.  Check it out here.
Heirloom Crosses & Crucifixes in Table Rock, Nebraska. One of the greatest gifts that was given to us can be remembered through a crucifix. This crucifix, made from solid walnut, should remind you every day that Christ died for you, and you are worthy of His love.
Designed and handcrafted in Furnished by Frassati's home for yours. Order one here.
Stunning Immaculate Heart of Mary Centerpiece in White Bronze, Original Design by The Catholic Woodworker (USA). Highly detailed St. Benedict Crucifix in Black (Italy). Custom Madre de Cacao Hardwood Beads (Philippines). 10mm Larvikite Stone Our Father Beads (Norway). Solid 7mm Gunmetal Bead Cap Finish Accents. Extremely Durable Charcoal 95 Paracord. Order your weapon here.
As the oldest continuously operating briar pipe factory in the world, Peterson Pipes have a certain tradition to uphold, a legacy of craftsmanship dating back over 150 years. Whether you're browsing for your very first pipe or are a seasoned collector in search of a rare gem, know that every pipe in their catalogue carries with it that same preservation of tradition. A Peterson pipe isn't just a utilitarian tool; it's a piece of history you can carry with you in your travels, a faithful companion to accompany you through all that life offers.
With a slightly tapered and more rounded style of bowl, Peterson's "230" bent Billiard forgoes the cylindrical, tubular shaping cues typically seen from the Irish marque. That said, Peterson's conventionally muscular style of shank and transition is still clearly evident. Despite these hearty proportions, however, the "230" remains a compact pipe in terms of overall length, well suited to hands-free clenching and an excellent choice for travel.
Revived in 2022, Peterson's Emerald series resurrects one of the Irish marque's best-selling lines. It presents pipes dressed in the factory's recognizable rustication and decorated with the Emerald line's characteristic brass rings and namesake acrylic accent. Combining Peterson's signature shaping style with a tasteful color palette that evokes Ireland's verdant landscape, this Emerald pipe also features a P-Lip stem of vulcanite, further embodying Peterson's historic reputation for innovation and pipe-smoking comfort. Learn more here.
The product that all bearded Catholic Men didn't even know they were waiting for has arrived! Hand made in small batches by a Catholic beard enthusiast Tony Vasinda. Barbatus Beard Balm is an all natural blend of almond oil, shea butter, beeswax, cocoa butter and essential oils (in our scented ones).
Chrism: The rich aroma of balsam, rose, and 50+ other scents all mix together to remind you daily of your baptismal promises.
For duck hunters, G&H Decoys, Inc. is already a household name. G&H has a reputation for quality and longevity, and is steeped in the finest traditions of waterfowl hunting. With changes in the world economy over the past few decades, G&H is the last of its kind – a hold out from the Dust Bowl days where strength of will and American muscle were part of our shared ideals. When other companies moved production overseas, G&H dug in. G&H is the cornerstone business in Henryetta, Oklahoma. Many workers have survived decades of challenges and wear their longevity and resiliency as a badge of honor.
Perhaps the most familiar of all ducks, available in plus size! Eight drakes and 4 hens are included in these robust plus-sized mallard decoys. These mallards may look more hefty, but they won't weigh you down. You can trust G&H to deliver the same reliable "no frills" decoy that has existed since your dad was your age. The drakes and hens of the Classic Magnum are both 17" – so no fat jokes. Learn more about G&H Decoys here.
It's the patented can cooler you can fish with! Chill-N-Reel's unique approach to hand-line fishing keeps you hydrated and having fun for hours!
Made in the USA, each Original Chill-N-Reel comes fully equipped with just about everything you need to immediately get to chillin' and reelin' — and all you have to do is add your favorite bait and, of course, a frosty beverage! Buy one (or two) here.
The world's best selling meat thermometer with a built-in Bluetooth repeater! Get freedom from your grill, smoker, or kitchen. 2 Sensors, 1 Probe: Dual temperature sensors can monitor internal meat temperature and ambient. It's a win for any BBQ master. Order here.
This Medium Stockman is a part of the Yellow Synthetic Family. The distinctive yellow handle brightens this family while maintaining its toughness, making it one of the most beloved in the Case line. Stockman's pack three blades in a convenient but very practical pocket knife. The Clip and Sheepfoot blade sit on the pocket end while the Spey blade sits on the cap end. The Clip blade is commonly used as a multi-purpose blade and preferred for detail work. The Sheepfoot blade allows for added strength at the point making it great for carving and achieving a clean cut. The Spey blade is commonly used as an all-purpose utility blade. This knife is fitted with high carbon steel blades known for their high tensile strength, wear resistance, and toughness. Many prefer this steel for its edge retention and ease of re-sharpening. Since these are not stainless steel blades, a thin coat of oil applied on them after each use can help maintain their original finish. Comes conveniently packaged in a box. Made in Bradford, PA, USA from domestic and imported materials. Order one here.
Original artwork of Saint Joseph the Worker by BARITUS Catholic Illustration. Museum-quality posters made on thick and durable matte paper. Add a wonderful accent to your room and office with these posters that are sure to brighten any environment.  BUY NOW
From the William's family, "Are we giving our families an opportunity to contemplate the many pathways of holiness that these models of our Catholic faith gave to us to follow? This is why we made SaintCards.  Our family wants to invest into the Catholic Domestic Church to help parents fulfill their mission in "teaching their children to discover their vocation as children of God" (CCC 2226). Through learning about these holy men and women, the entire family can grow in holiness, all while having fun.  It's all for heaven in the end! We hope these SaintCards can help every family grow in love of the Saints and through that growth come to know more intimately, He, who is Father, Son, and Holy Spirit." Order here.
Never before has lighting your outdoor charcoal, chiminea, fireplace campfire, or anything else been so fun, so cool, and so fast. The Grillgun Lights your grill in just a couple of minutes, sears meat, and any other normal chore you would use a high power torch to do, while being entirely portable, easy to use with a great feel in the hand – all this while looking awesome.. BUY NOW
For those who need a generous amount of caffeine to start the day. Handcrafted and designed with coffee connoisseurs in mind. Made by a Catholic family in Oklahoma. Visit his store here.
Consumables
Their original formula that got everybody talking. A subtle citrus scent makes for a highly bright, fresh and enjoyable shave. Cremo contains unique molecules that become impossibly slick when mixed with water, so your blade can glide effortlessly over skin. You'll enjoy a clean, comfortable shave and astonishingly smooth skin while fighting nicks, razor burn and irritation. A great stocking stuffer.
All revenue the monastery produces is used to support the work of prayer and evangelical witness at the monastery in Norcia. All beers are available in both .33 L and .75 L sizes.
.75 L bottles are available in cases of 6 and .33 L bottles are available in cases of 12. Buy a case here.
Providing personalized home-made confection creations and other tasty treats for customers to enjoy. Find out more information here.
Zelie Beans Coffee takes its name from St. Zelie Martin. Zelie Beans Coffee only sources beans from suppliers that provide fair and above fair prices for the unroasted beans. We also seek out those sources that continue to invest into women, their families, and their communities. Check it out.
Introducing Red Fork Reverence, the first spirit pairing from our Craft Series. We partnered with Red Fork Distillery in Tulsa, Ok to bring you the perfect cigar pairing for their new Reverence Bourbon. Enjoy the cigar with bourbon neat or on the rocks. Flavors of vintage leather, warm hay, white pepper, and charred oak perfectly compliment this true American bourbon. Available in a 5, 10, or 20 pack.
The monks of the Abbey of the Genesee have been baking Monks' Bread since 1953. Made from scratch without any artificial preservatives and thin-sliced, Monks' Bread has been a favorite in the Northeast for decades. Monks' famous bread is available in 8 delectable varieties. Check out all the varieties.
Fr. Richard Walz, OSB, began making Habanero Pepper Sauce while stationed in Belize, Central America. In early 2003, when Fr. Richard returned to Subiaco Abbey in Arkansas, he brought with him some seeds of the Habanero peppers he had been growing in Belize and planted them in the garden of our Arkansas River Valley monastery. During this first year, perhaps 140 gallons of "Monk Sauce" was prepared and either sold or given away to friends of Subiaco Abbey. Since that time, and thousands of bottles later, Subiaco Abbey "Monk Sauce" has now become a regional favorite and is sold nationally and internationally. Order a bottle here.
Just released in fall of 2019, the goal was to create an affordable everyday bourbon that had that unique and unmistakable Smoke Wagon flavor, consisting of delicate sweet notes with a rye spice finish. Barrels with our same high rye mash bill were racked on the top two floors of the warehouse and never rotated. The higher the floor the hotter it gets in the summer causing more expansion and more movement into the wood. Because we don't chill filter, these combined aspects create a bourbon that is rich and creamy beyond its years. Never rotating the barrels ensures there are no harsh tannin flavors and the high rye mash bill adds a delightfully spicy and nutty finish. Shop here.
For over 160 years, the brothers of Saint Meinrad Archabbey have sought to spread joy through their lives of prayer and work. One little way they do this is through their delicious handmade peanut butter! These jars of "Peanut Brother" have two simple ingredients: peanuts and salt! The result is a truly heavenly peanut butter that's sure to bring a smile to your face. Your purchase supports the brothers as they live out their vocation of work and prayer! Buy a 3 pack here.
Books
One of the most important philosophy titles published in the twentieth century, Josef Pieper's Leisure, the Basis of Culture is more significant, even more crucial, today than it was when it first appeared more than fifty years ago. This edition also includes his work The Philosophical Act. Leisure is an attitude of the mind and a condition of the soul that fosters a capacity to perceive the reality of the world. Pieper shows that the Greeks and medieval Europeans, understood the great value and importance of leisure. He also points out that religion can be born only in leisure — a leisure that allows time for the contemplation of the nature of God. Leisure has been, and always will be, the first foundation of any culture. Pieper maintains that our bourgeois world of total labor has vanquished leisure, and issues a startling warning: Unless we regain the art of silence and insight, the ability for non-activity, unless we substitute true leisure for our hectic amusements, we will destroy our culture — and ourselves. Available on Amazon.
True Devotion to the Blessed Virgin is one of the greatest and most celebrated books ever written about Our Lady. Praised by popes, mystics and theologians, this profound and powerful book presents Mary as the essential and infallible key to the heart of Jesus. Nowhere will you find a deeper and more life-changing book on that quintessentially Catholic doctrine: the role of the Blessed Virgin Mary in the life of the Christian and the life of the Church. Buy the heirloom quality hardback version here.
Aquinas at Prayer draws attention to important aspects of Aquinas's life and work which have been all too often overlooked or forgotten. Today Aquinas is almost exclusively regarded as an outstanding scholastic philosopher and theologian. But what is little known is that Aquinas was, first and last, a teacher of the Bible – a Master of the Sacred Page. Moreover there is a distinctly mystical character to his theology. And, as a writer, he was not only a poet but, arguably, the greatest Latin poet of the Middle Ages. Purchase a copy here.
In Why We Kiss Under the Mistletoe, bestselling author Michael Foley dives deep into the history of Christmas and the customs that surround this beloved holiday. Learn about the fascinating origins of your favorite Christmas food, drink, observances, and songs. Discover how Saint Nicolas, a fourth-century Catholic bishop, became Santa Clause and who Santa's global competitors are (some of them will shock you). And dig into the forbidden history of the Yuletide season's dark and ghoulish side. Witty, imaginative, and wholly unique, Why We Kiss Under the Mistletoe is the stocking stuffer that will be revisited every year. Purchase here.
John Senior's two books The Death of Christian Culture and The Restoration of Christian Culture along with Fr. Francis Bethel's John Senior and the Restoration of Realism. Although we already have 2 of the 3 books, we might have to buy the set. Buying the books also supports Clear Creek Abbey (where TCMS Campout takes place every year!)
Learn from the writings of St. Francis de Sales, the Doctor of Charity, on this very matter in his work that specifically addresses this most important question. The knowledgeable and holy Doctor of the Church writes in a way that is at once easy to read and suited to all readers, yet thorough, authoritative, reliable, kind, and gentle. He guides us to the knowledge that we are all called to the devout life. True devotion to God, as St. Francis de Sales points out, adorns every vocation. Additionally, St. Francis will explain that the devout life is a choice worthy for its own sake: "And our blessed Lord Himself assure[s] us that a devout life is a lovely, a pleasant, and a happy life." Order a copy from Ascension Press.
Shameless plug…
Incorporate faith into your day-to-day family life. Our relationship with God is not supposed to stay within the walls of our parish when we leave Sunday Mass. Instead, faith should transform our hearts, our families, and our homes into a welcoming place to encounter Christ. But this isn't always easy. Home life can be difficult and busy, and it's easy to get distracted from the point of it all: raising a family of saints. In Living Beyond Sunday: Making Your Home a Holy Place, married couples Adam and Haylee Minihan and David and Pamela Niles share what has helped them make their homes a place of encounter with God–a place where saints are being made. This book goes beyond the aesthetic or surface-level attributes of a Catholic home. Beyond that, it shares how to foster holiness in all the little moments in Catholic family life.
The bestselling book—more than 1.5 million copies sold—for every boy from eight to eighty, covering essential boyhood skills such as building tree houses, learning how to fish, finding true north. In this digital age, there is still a place for knots, skimming stones and stories of incredible courage. This book recaptures Sunday afternoons, stimulates curiosity, and makes for great father-son activities. The brothers Conn and Hal have put together a wonderful collection of all things that make being young or young at heart fun—building go-carts and electromagnets, identifying insects and spiders, and flying the world's best paper airplanes. We talk about this book in this episode. Order a copy here.
Cooking with Beer in Colorado includes 75 beerlicious collaborative recipes from the best chefs and brewers of Fort Collins, the "Napa Valley of Beer," and Front Range playground with more restaurants per capita than any other city in Colorado. This is much more than your typical cookbook. This book is about people and their own unique personalities. Experiment with these downright delectable recipes and read the stories along the way. The recipes are written in the chefs' own words, and the brewer's notes are prepared by the brewers themselves to show off their personal styles. So fill your growler and prep your palette, as you are about to partake in an exquisite cooking adventure. Order your copy here.
Subscriptions
Have you already done Exodus90? It's time to consider being a fraternity leader. There's a leadership class happening on December 3. Check it out. Need to find a fraternity? Here you go.
The Catholic Man Show on Patreon
You can support our show and receive a lot of really cool thank you gifts, access to over 60 audiobooks/interviews, a full course with Karlo Broussard on St. Thomas Aquinas' 5 Ways, A fitness course with Pat Flynn, and access to our book club! Start supporting here!
Sword & Spade can help you bridge the gap from endless banalities and scrolling to deep and worthwhile reading. With the Guild membership we take it a level deeper with classes & conversation on modern topics we face today in addition to the quarterly magazine. Get the magazine, here.
The Thomist is a peer-reviewed academic journal that appeals to a wide international readership in the university, the seminary, and the Church. In the tradition and spirit of Thomas Aquinas, it seeks to promote original and penetrating inquiry into the full range of contemporary philosophical and theological questions. It undertakes particularly to support sustained discussion of issues of philosophy and systematic theology, where such discussion can be advanced by creative use of the thought of Aquinas and significant authors in the Thomistic tradition. In this way The Thomist seeks to cultivate a fruitful dialogue between modern and contemporary philosophical systems and the classical tradition of philosophy and Christian theology. Subscription from CUA.
The English edition of Nova et Vetera is published quarterly and provides an international forum for theological and philosophical studies from a Thomistic perspective.
Founded in 1926 by future Cardinal Charles Journet in association with Jacques Maritain, Nova et Vetera is published in related, distinct French and English editions. The English edition of Nova et Vetera welcomes articles and book reviews in theology, philosophy, and biblical studies that address central contemporary debates and discussions. We seek to be "at the heart of the Church," faithful to the Magisterium and the teachings of the Second Vatican Council, and devoted to the work of true dialogue, both ecumenically and across intellectual disciplines. Subscribe here. 
The Church's official prayer, and the highest form of prayer after the Mass. It is an ancient, structured way of praying Scripture throughout the day, focusing especially on the Psalms. It hearkens back to the Jewish custom of praying at fixed hours, a practice continued by the early Church. $7/mo and they ship it to your doorstep. Find out more here.
Practical ideas for self-reliant living. A fun magazine to give you good ideas on how to maximize food, gardens, harvestings, recipes, and much more. Find out more here.